FUTEK Advanced Sensor Technology
FUTEK Advanced Sensor Technology, Inc. is a manufacturer of load cells, torque sensors, pressure sensors, multi-axis sensors, and related instruments and software. Located in Southern California, we've built a reputation as a quality provider of test-measurement and control feedback products.
Specializing in the research and development of these advanced sensing devices, our products are used in many industry applications, such as medical devices, automation, and robotics. We are committed to producing the highest quality sensors available in test-and-measurement and control feedback industries. With high quality comes a meticulous attention to all details. Every stage of design, development, and production is driven by this quality standard. We are so passionate about our quality assurance that we guarantee our products meet and/or exceed the quality clauses outlined by the International Organization of Standardization (ISO). We proudly carry certifications in the following ISO standards: 9001, 13485, and 17025.
Additionally, FUTEK holds certifications from the American National Standards Institute (ANSI) as a Z540 approved calibration laboratory; as well as CE and RoHS certificates of conformance for our standard product line.
Our aim is to provide the most precise sensor solution for your specific project. Part of the FUTEK experience is having a thorough support team available to our customers, including pre-application R&D consultations, as well as post-sales technical support.
If you have a test-measurement application or control feedback need, please don't hesitate to contact us for support. Again, we are in the business of creating solutions, no matter how complex the challenge is.
Featured Articles & Products Read More >
May 25, 2023 12:00pm
Introducing the LSM305, the latest generation of FUTEK's LSM parallelogram load cell series and one of the most accurate sensors the company has ever made. LSM305's exceptional features at a glance: Measures both tension and compression Ideal for OEM applications Single-point design for easy and flexible integration Integrated overload protection mitigates sensor damage Exceptional nonlinearity […]
[Read More]
February 2, 2023 1:47pm
The long-awaited MD&M West, D&M West, and ATX West shows are almost here! In just a few days, engineers and innovators from all over will convene to share knowledge and new technologies that advance our collective capabilities. The conference and exhibition will take place February 7-9, 2023, at the Anaheim Convention Center in California. Here's… [Read More]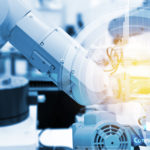 July 9, 2019 1:24pm
Minimally invasive surgery (MIS) is a modern technique that allows surgeons to perform operations through small incisions (usually 5-15 mm). Although it has numerous advantages over older surgical techniques, MIS can be more difficult to perform. Some inherent drawbacks are: limited motion due to straight laparoscopic instruments and fixation enforced by the small incision in […]
[Read More]