KB Electronics, Inc.
Since 1967, KB Electronics, Inc. has dedicated itself to manufacturing the best AC drives and DC drives. KB designs and builds over 200 motor speed control models to serve the fractional to 5 horsepower market. KB's goal is to manufacture the highest quality product at competitive prices. Controls are available for AC, PMSM, DC, DC brushless, PSC, Shaded Pole and Universal motors. The Company prides itself in being able to
provide customization to any of their motor drive products, thereby allowing their customers to purchase a product specific to their manufacturing needs.
KB established their distribution channel in the early 1980's. This network includes over 800 distributor locations in over 30 countries.
In 1995, the Company relocated their corporate headquarters to a modern manufacturing facility in Coral Springs, Florida. Total Quality Management (TQM), along with computerized testing and JIT/Cell Manufacturing, ensures consistent product quality and reduced lead times. What this means is that we can make a superior product and deliver it faster, while keeping our competitive edge.
Featured Articles & Products Read More >
September 23, 2014 1:05pm
KB Electronics, Inc. of Coral Springs, FL, a manufacturer of AC drives and DC drives from fractional through 5 horsepower, introduces a new AC digital drive to their current product line. The new KBWK-23D operates with either a 115 or 230V AC line, is housed in a NEMA 1 / IP 20 enclosure, and features… [Read More]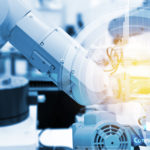 May 13, 2013 1:50pm
KB Electronics expand their AC drive product offering with new digital drives. The KBDF Series of Adjustable Frequency Drives consist of fourteen inverter models rated for 1/8 to 5...
[Read More]
January 17, 2013 10:18am
KB Electronics, Inc. introduces a Hybrid DriveTM to their current product line. KB is the first manufacturer of variable frequency drives to apply the term Hybrid Drive to...
[Read More]