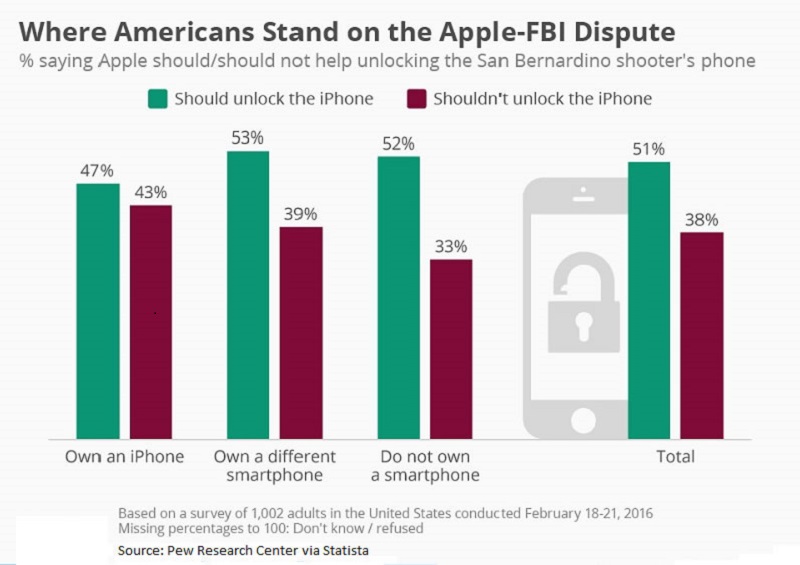 The continued tug of war between Apple and the FBI over the former's refusal to help unlock the iPhone used by Syed Farook, one of the two individuals responsible for the San Bernardino, Calif. mass shooting, has sparked quite the debate. Does the FBI and its desire to further its investigation into Farook supersede personal privacy features, or is Apple correct in its fears that a phone-cracking software would "trample civil liberties" afforded to U.S. citizens? Well, according to a survey conducted Feb. 18-21, the majority of Americans side with the FBI.
Pew Research Center questioned 1,002 adults, 51 percent of which think Apple should assist the FBI in unlocking Farook's phone, while 38 percent support Apple's stance. The remaining 11 percent didn't have an opinion on the manner.
Interestingly, iPhone owners—a group known for their fervent support of the Apple brand—showed, at best, mild support of the company: 43 percent said the phone shouldn't be unlocked compared to the 47 percent who thought it should.
Every demographic involved in the survey favored unlocking Farook's phone except one: 55 percent of those who claimed to be a Democratic leaning independent said that the phone shouldn't be unlocked. Conversely, independents who are more likely to back the Republican Party were the strongest supporters of unlocking the phone at 58 percent.
The survey showed that the older the respondent was, the more likely they were to believe the phone should be unlocked. The youngest group—participants 18-29—leaned toward the unlocking of the phone by a 47 to 43 percent vote. Those in the oldest age group—participants 65 and older—said the phone should be unlocked by a 54 to 27 percent vote.
---
Filed Under: Industry regulations
---