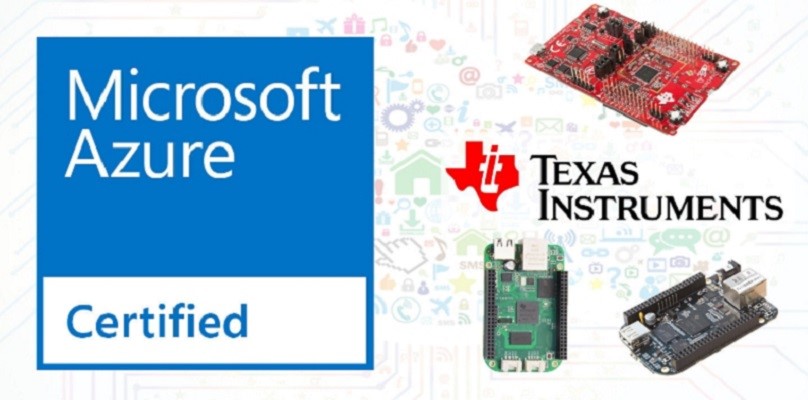 A new link between Microsoft and Texas Instruments is aiming to make innovation in the Internet of Things easier.
TI has announced three evaluation kits based on its embedded processors, which support Microsoft's recently-released Azure Certified for Internet of Things. This means that the hardware is compatible with the Azure IoT suite, and that developers who use these kits can easily download the relevant Microsoft Azure for IoT agent and connect to the cloud.
The first TI kits with a pre-ported agent code for the Azure IoT Suite are the SimpleLink Wi-Fi CC3200 wireless MCU LaunchPad kit and Sitara AM335x processor-based BeagleBone Black and BeagleBoard Green kits. The SimpleLink provides a low-power connection to the cloud, while the BeagleBone Black board, based on TI's Sitara AM335x processor with a 1GHz ARM Cortex-A8 core, supports Ethernet and Wi-Fi connectivity. The SeedStudio BeagleBone Green board upgrades the BeagleBone Black with connection to a variety of Grove sensors.
TI is one of the first semiconductor vendors with certified wireless microcontroller- and processor-based evaluation kits that smoothly connect to the Azure IoT Suite.
TI is focusing its semiconductor innovations on the Internet of Things in order to allow customers to move from wired connections to wireless connectivity. Research is ongoing on low-powered, battery-operated connected products, increasing integration that can drive down system costs, and easing development by providing pre-made modules and internet software stacks. Increasing security in silicon is also a priority as IoT technology moves forward.
"We are pleased to include Texas Instruments as one of the first members of Microsoft Azure Certified for IoT to allow customers to build TI-based cloud-connected products faster and easier," said Barb Edson, general manager for data platforms and Internet of Things at Microsoft. "Building on today's certifications, we are committed to working closely with Texas Instruments on industrial, automotive and consumer applications certified for Microsoft Azure IoT Suite."
Additional TI products are expected to be certified for IoT connectivity in the coming months.
---
Filed Under: M2M (machine to machine)
---