With the MAX22505 ±40V high-speed USB fault protector from Maxim Integrated Products, Inc., designers can now eliminate USB port damage from all faults, including ground potential differences, up to ±40V without the tradeoffs required by competing solutions. It protects data and power lines from industrial equipment powered at 24VAC and 40VDC, while also reducing solution size by more than 50% for industrial voltage applications.
Industrial environments continue striving to reduce solution footprint to increase productivity and throughput while demanding system robustness and increased uptime. As a result, there has been a trend to adopt USB vs. RS232 on automation equipment due to a much smaller connector size. As industrial environments adopt USB to provide faster communication for applications such as real-time diagnostics, programming/service ports on programmable logic controllers (PLCs), or supporting camera vision systems, USB ports require fault protection from overvoltage and ground differences while balancing the need to support high-speed data rates up to 480Mbps. Damage to both the host and device side can occur in these systems, requiring a unique solution that achieves high levels of fault protection. Existing USB fault protection solutions on the market today compromise either USB operating speed or voltage/current limit protection on a device's data and power lines. Consequently, current solutions on the market are costlier and incapable of providing fault protection at high-speed USB performance.
The MAX22505 answers this market need as the industry's only solution that combines high-speed USB fault protection (480Mbps) for industrial voltages, while being flexible enough to support either host or device applications including USB On-The-Go (OTG). It protects equipment from overvoltage or negative voltage on power and data lines, as well as ground potential differences between devices. It reduces solution size by more than 50% compared to competing solutions and ensures robust communications in harsh environments cost-effectively in a simpler design. Housed in a 24-pin 4mm x 4mm TQFN package, it operates over the -40-degree Celsius to +105-degree Celsius temperature range. Applications include building automation, industrial PCs, PLCs, and diagnostic USB ports.
Key Advantages
Robust communications: Protects from overvoltage, negative voltage, and ground potential differences; Integrated ±50VDC protection for VBUS/GND power lines; Integrated ±40.7VDC protection for D+/D- data lines
Small size: More than 50% smaller solution size compared to competing solutions
High performance: Supports high (480Mbps), full (12Mbps), and low (1.5Mbps) USB operation speeds
Commentary
"Until now, there was no solution in the industry for high-speed USB fault protection," said Susie Inouye, Research Director at Databeans. "Maxim's solution will pave the way for improved robustness in industrial systems, especially with today's growing trend of diagnostic ports within industrial equipment."
"To further build on Maxim's focus for robust communications, our customers now have the capability to achieve high-speed USB fault protection for industrial voltage applications," said Timothy Leung, Executive Business Manager, Industrial & Healthcare Business Unit at Maxim Integrated.
Availability and Pricing
The MAX22505 is available at Maxim's website for $2.24 (1000-up, FOB USA); also available with select authorized distributors
The MAX22505EVKIT# evaluation kit is available for $110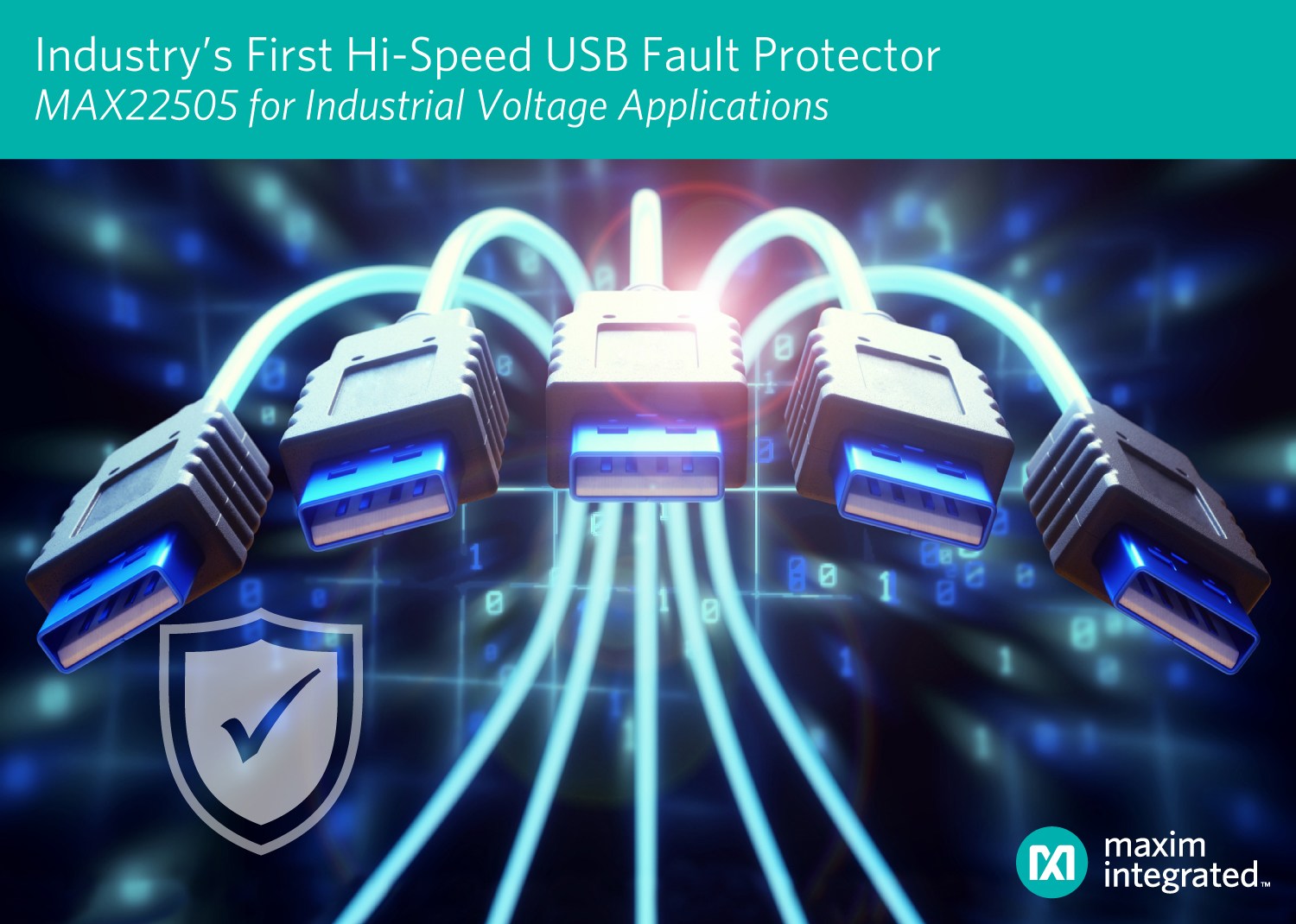 ---
Filed Under: Industrial automation, PCs
---