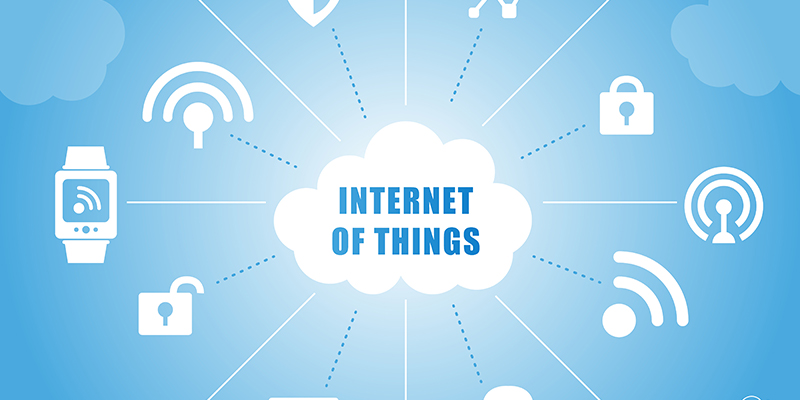 The Internet of Things (IoT), the oftmentioned next great white whale of industry hope and opportunity, is estimated to become a $250 billion market by 2020. As with any industry buzzword, what is hype and what is reality? If any of it is real, what exactly does that mean to our industry?
Rob Shaddock, TE Connectivity's executive vice president and chief technology officer, attempted to shed a little light on the IoT with a presentation that kick-started the Electronic Components Industry Association's (ECIA) annual Executive Conference held from October 25th to 27th just outside of O'Hare International Airport in Rosemont, IL.
In "Cloud and IoT—Bridging the Gap between the Hype and the Reality," Shaddock noted that everything has connectors and sensors, but the IoT vision (as well as the hype) is how we get valuable and actionable data from those components.
Shaddock warned the record-setting crowd of electronic component industry notables, "Don't waste any time plugging [$250 billion] into a spreadsheet and mapping a business plan around it … After all, electronics are getting cheaper and computing power is free."
Naturally, this warning leads to the hype, particularly the example of the all-powerful, all-knowing connected refrigerator—the mythological bastion of the connected home's potential and, according to Shaddock, a complete waste of time. "I have [a connected refrigerator], but it doesn't do anything useful." As a hopeful future adopter, I found the news devastating, but I figured it best to let him conclude his point.
According to Shaddock, the connected fridge provides little value beyond maintenance, particularly the appliance's ability to ensure that the on-call technicians have the appropriate parts on the truck when they pull up on a service call. A few things stood out. Of course, the smart fridge has yet to include reliable personal inventory management, or tracking of impending crisper funk, but at the core of Shaddock's argument, he reiterated that IoT, while surrounded by hype, doesn't give consumers any real reason to purchase and engage with these products.
However, what I found most comical was that Shaddock already experienced the maintenance benefit, meaning something already failed on his fancy new smart fridge. My model, from a long retired 1980s Sears catalog, remains in tiptop condition—with the exception of a few failing shelves in a freezer that simply wasn't designed to hold whole chickens raised on modern farms.
Shaddock also targeted wearables, which I found odd given TE's investment in a Wearables Lab in Menlo Park, CA, as well as home automation as technologies that are more hype than reality. Regarding home automation, Shaddock spoke from experience. While his home is filled with
Nest Learning Thermostat implementations, he added that the wearables and home automation markets "need an ecosystem that has yet to develop around IoT, and interoperability has yet to become a reality."
All told, Shaddock said that "IoT was the most hyped tech in 2015 all because of unfulfilled consumer expectation." But underneath the hype is plausibility, and where there's plausibility, there is money… plausibly.
IoT's potential comes in the form of real-time market research that enables actionable data. He turned to the modern Coke machine as an example of machineto- machine (M2M) connectivity, providing monumental amounts of data on everything from consumers' regional tendencies to individual user preferences.
Personally, I had no idea that you could tie your social media profiles to these machines, and like Shaddock, I must agree that this prospect is "horrible." Why you would ever want to gift a friend a free drink in a fast food restaurant is beyond me. Also, why the need for your Coke avatar to pop up when you order your custom half root beer, half orange soda?
Such interoperability and functionality seem superfluous, but Shaddock dug deep into the history of the phone. When the phone was first introduced, the original response from potential customers was, "Why would I phone somebody when I can simply write a letter?" Did the example provide some necessary color commentary? Yes, but do I see myself regretting a late entry to the cola avatar social marketplace? No.
The IoT hype becomes a reality as we start instrumenting the world with a wave of sensing and deployment. "Now is the time where we at the bottom start to think about how we enable the IoT universe," Shaddock said. "As component manufacturers, we are the things within the Internet of Things." The bottom he refers to includes the hardware, sensors, and connectivity that enable the software, algorithms, and integration services, which will become the more lucrative link in such things as digital factory architecture in which IoT starts to get interesting with real-time machine performance reporting.
"We are in the new industrial revolution," Shaddock said, and the revolution is all about bringing computing into manufacturing, even if it begins with beverage dispensers with grubby touchscreens covering your avatars with greasy smudges.
What's your take? Is IoT hype or reality? Are we in the new industrial revolution? If so, wasn't it 3D printing? Email your comments to [email protected].
This blog originally appeared in the November/December 2015 print edition of PD&D.
---
Filed Under: M2M (machine to machine)
---