Jeff Bezos' Blue Origin space project broke another record by launching the New Shepard spaceship on its highest round trip to space, according to Geek Wire.
This was the second test flight for this specific spaceship, known as RSS H.G. Wells. Last December the ship ascended 99.39 kilometers in the air, not quite reaching the 100-kilometer mark that defines the boundary of outer space.
Now, RSS H.G. Wells set a record altitude with 107 kilometers (351,000 feet), surpassing Bezo's expectations. He reported in a tweet that the launch and landing has brought them one-step closer to his vision of having millions of people live and work in space.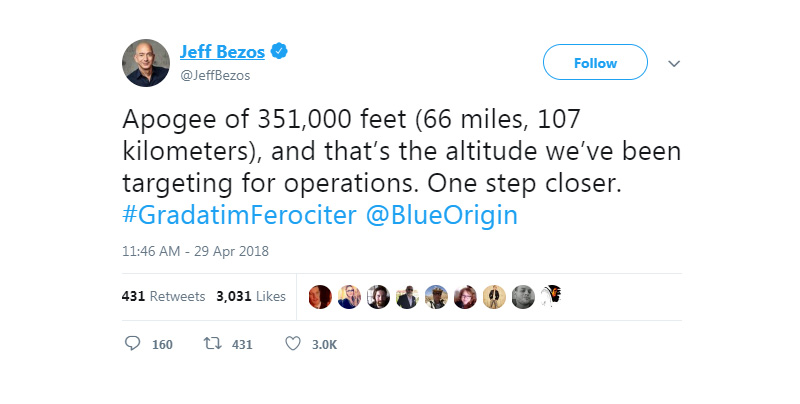 After a minor weather setback and equipment checks, the New Shepard's spaceship lifted off at 12:06 p.m. CT. Throughout the 10-minute flight, the booster sent the capsule into cloudy skies at extraordinary speeds and then separated, coasted and drifted back toward the ground. The booster manipulated its air brakes and relit the hydrogen-fueled BE-3 rocket engine to a slower speed, which allowed for a smooth landing.
A video summary of the flight is available at the end of this story. Blue Origin's full live stream video of the entire event can be viewed by clicking here.
Aboard the Wells spaceship was test dummy Mannequin Skywalker whose main purpose was to collect flight data. Although current tests are uncrewed, the ongoing flight tests are paving the way for Blue Origin's astronauts to take their own turns by the end of this year or early next year.
Eventually, they hope to have researchers and tourists able to experience the autonomous piloted spaceship, but Blue Origin has not set any prices or taken reservations for crewed flights.
In an interview in Berlin, Bezos said he has been thinking about space since he was five-years-old, and Blue Origin "is the most important work" he is doing, according to Business Insider.
---
Filed Under: Aerospace + defense
---