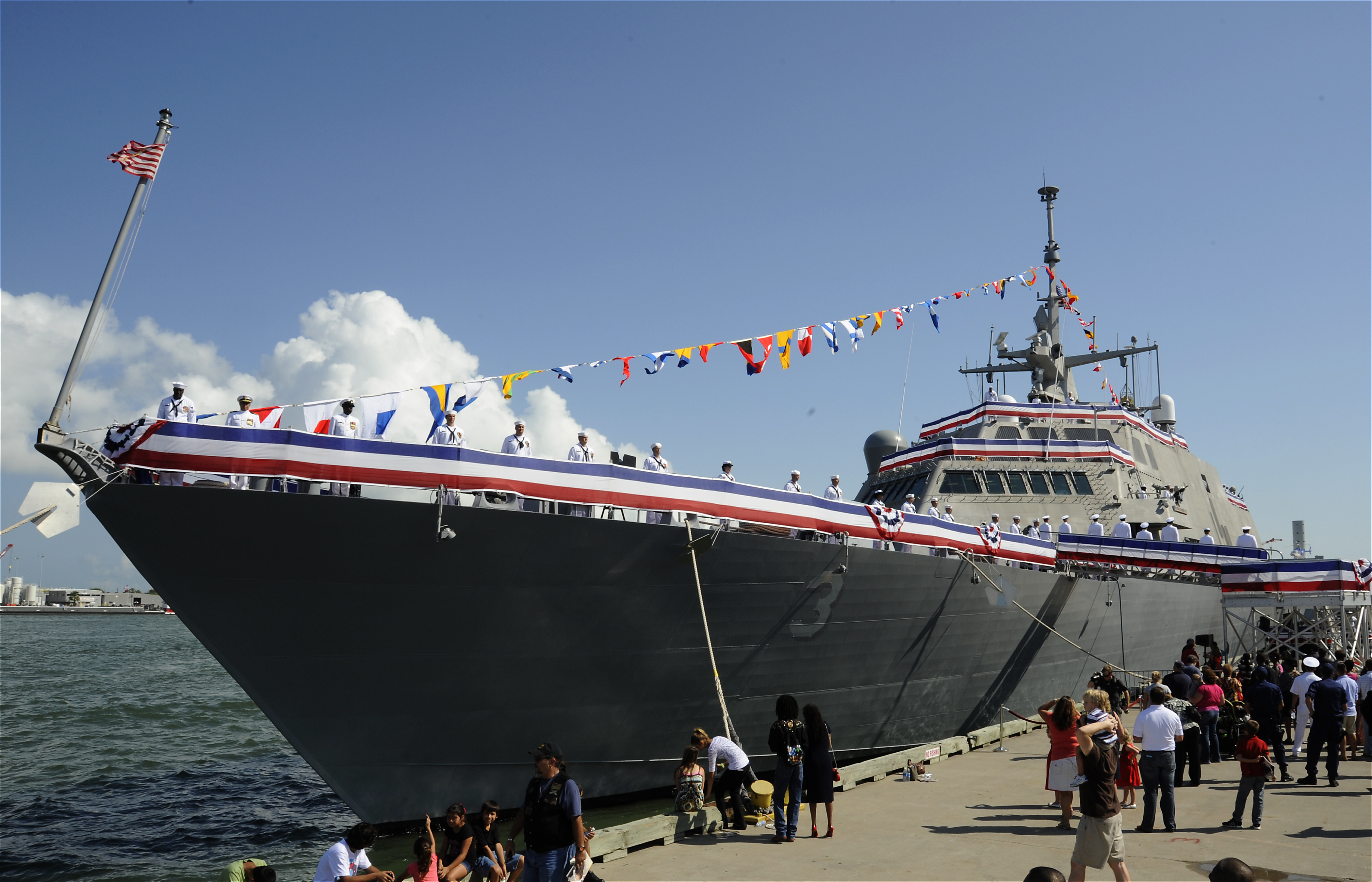 The U.S. Navy commissioned the nation's fifth Littoral Combat Ship (LCS) – USS Milwaukee (LCS 5) – in Milwaukee today, officially placing the ship designed and constructed by a Lockheed Martin-led industry team into active service.
Milwaukee, the third Freedom-variant in the LCS class, successfully passed Acceptance Trials in September and was delivered to the U.S. Navy on October 16.
"The USS Milwaukee is a warship with capabilities unlike any others," said Stephanie C. Hill, vice president of Ship & Aviation Systems for Lockheed Martin Mission Systems and Training business. "The entire Lockheed Martin-led LCS industry team is proud to deliver USS Milwaukee to the crew who will bring this great ship to life to participate in the defense of our great nation."
The fifth U.S. Navy vessel bearing the name, Milwaukee will transit to its homeport in San Diego, California, where it will be integrated into the fleet and the industry-Navy team will conduct additional program testing and crew training.
The Lockheed Martin-led industry team, which includes shipbuilder Fincantieri Marinette Marine and naval architect Gibbs & Cox, has already delivered two Freedom-variant littoral combat ships to the U.S. Navy. USS Freedom conducted a successful deployment to Southeast Asia in 2013 and is currently operating out of her homeport in San Diego. USS Fort Worth is currently deployed in Southeast Asia, serving in the U.S. 7th Fleet.
Detroit (LCS 7) is scheduled to be delivered in early 2016. Sioux City (LCS 11), Wichita (LCS 13), Billings (LCS 15), and Indianapolis (LCS 17) are in construction. St. Louis (LCS 19) and Minneapolis/St. Paul (LCS 21) are in long-lead material procurement.
The commissioning is the final act that marks entrance of a ship into the naval forces of her nation. It is the final of three events that bring a ship to life: keel laying, launching and christening, and commissioning.
Headquartered in Bethesda, Maryland, Lockheed Martin is a global security and aerospace company that – with the addition of Sikorsky – employs approximately 126,000 people worldwide and is principally engaged in the research, design, development, manufacture, integration and sustainment of advanced technology systems, products and services.
Founded in 1942, Fincantieri Marinette Marine (FMM) is located on the Menominee River flowage into Green Bay. The largest shipyard in Wisconsin and the Midwest, FMM has delivered more than 1,300 vessels for the U.S. Navy, U.S. Coast Guard, and commercial customers, including the technologically advanced Littoral Combat Ship Freedom class for the U.S. Navy. In 2008, FMM along with several sister shipyards also based in the Great Lakes region, became part of FINCANTIERI, the largest shipbuilder in the western Hemisphere and the fourth largest in the world. Over the past five years, FINCANTIERI invested more than $100 million in both capital infrastructure and its resources to support FMM's transformation into what is now one of the best shipyards in the United States. Employing approximately 1,500 employees, today FMM is a state-of-the-art, full service new construction shipyard.
Gibbs & Cox, the nation's leading independent maritime solutions firm specializing in naval architecture, marine engineering and design, is headquartered in Arlington, Virginia. The company, founded in 1929, has provided designs for nearly 80 percent of the current U.S. Navy surface combatant fleet; approaching 7,000 naval and commercial ships have been built to Gibbs & Cox designs.
---
Filed Under: Aerospace + defense
---