Ultimaker unveiled at Hannover Messe the Ultimaker S5, the latest expansion of its professional 3D printer portfolio. The future-ready Ultimaker S5 is fully optimized to fit seamlessly into existing workflows and delivers even more reliable results than before. With its larger build volume, the Ultimaker S5 is the ultimate professional solution for printing functional prototypes, manufacturing tools, and end-use parts.
The Ultimaker S5 has fully integrated hardware, software and materials configuration, as well as optimal settings alignment, designed for professional users that require full geometrical freedom capabilities, industrial-grade material properties, repeatability, high uptime and an integrated workflow. Boasting an optimized touch screen for better user experience, it features a 330x240x300 mm build volume for printing larger objects, dual extrusion, and an improved feeder system with a filament flow sensor that auto pauses and resumes when materials run out—leaving print quality untouched. The enhanced bed leveling ensures a perfect first layer and continuously compensates the print bed while printing, which allows unattended use of the Ultimaker S5. The Ultimaker S5 unlocks new applications and can print with a wider range of materials, from PLA to advanced engineering plastics like Nylon and PC. The Ultimaker S5 includes a closed front system, and from summer 2018, an anodized aluminum build plate.
Ultimaker also introduced two additional products designed to make professional 3D printing even more accessible and easier to integrate into any workflow:
Ultimaker Tough PLA – A technical PLA filament optimized for printing models at larger sizes such as functional prototyping, tooling and manufacturing aids, with no delamination or warping. With an impact strength similar and higher stiffness compared to Ultimaker ABS, Tough PLA is less brittle than regular PLA and gives a more matte surface finish quality.
Ultimaker App – The Ultimaker App allows users stay updated on the print's progress from a phone or tablet where ever they are. The free Ultimaker App notifies users when a print job is ready or when a printer needs special attention or maintenance. The Ultimaker App will be available on May 15th for Android and iOS, and works with Ultimaker S5 and Ultimaker 3 3D printers.
The Ultimaker S5 and Ultimaker Tough PLA will be available on May 15, 2018 through Ultimaker's network of global partners.
For more information visit www.ultimaker.com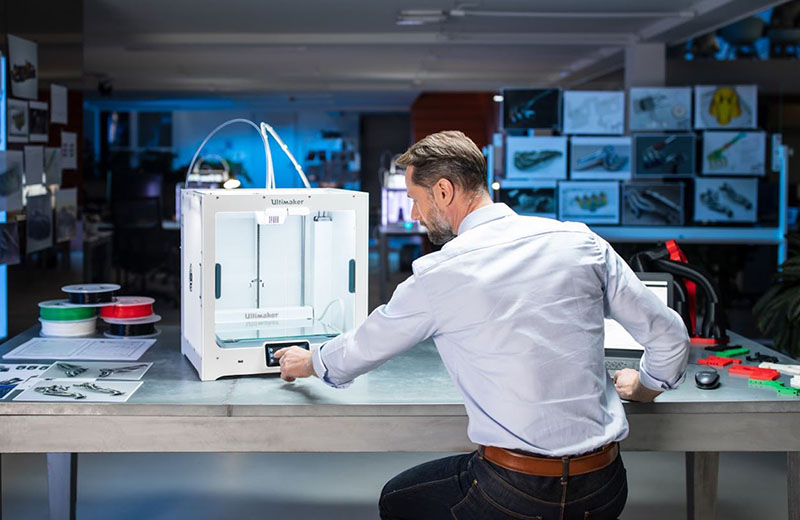 ---
Filed Under: 3D printing • additive manufacturing • stereolithography, Rapid prototyping
---