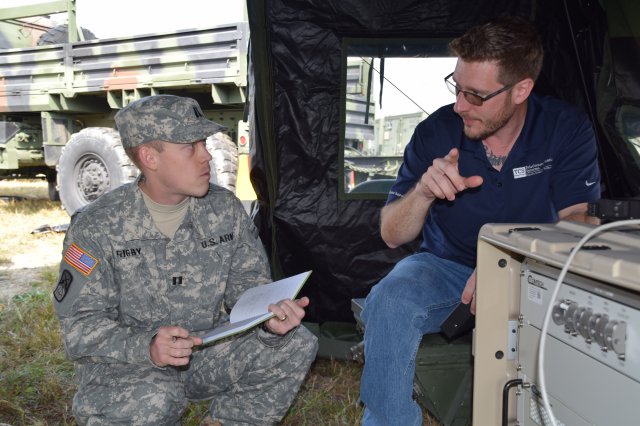 Soldiers, assigned to the 35th Air Defense Artillery, or ADA, Brigade, were armed with a new communications capability this week after months of integration with U.S. Army Patriot missile systems across the Korean peninsula.
Four Secure Internet Protocol Router/Non-secure Internet Protocol Router Access Points, or SNAPs, and 10 Tactical Transportable Troposcatter, or TROPO, systems were organically assigned to Patriot batteries within 35th ADA Brigade. This marks the first time these digital communications systems have been organically assigned to units within the U.S. Army Air Defense Artillery Regiment outside of Central Command and combat operations.
"The first thing we would expect any enemy to attack is power and communications," said Walter Plucinski, a telecommunications support engineer. "Allowing a Patriot unit to operate with organic SNAP/TROPO provides greater resiliency from such an attack while creating a more robust communications network for our Soldiers."
SNAP provides reach-back service to a regional hub regardless of geographical location, which ultimately gives Soldiers a self-reliant, completely mobile data/Internet service.
The TROPO systems provide Patriot units with redundant means of communication to fill pre-existing gaps in the Patriot's communications infrastructure.
"We are basically modernizing bandwidth capabilities of network infrastructure," said Maj. Jackie Kelley, signal officer of 35th ADA Brigade. "The current SNAP/TROPO and future equipment fielding will enable the ADA community to exercise seamless digital communications while preparing for their wartime mission."
The 35th ADA Brigade is the only permanently, forward-stationed Patriot unit in the U.S. Army.
---
Filed Under: Aerospace + defense
---