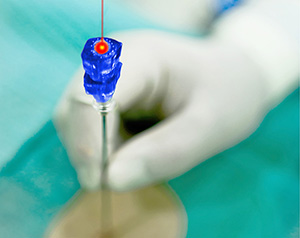 Every surgical operation has inherent risks. New technologies help to minimize these risks, with robotic assistance in eye operations or flexible tools for complex brain surgery.
Medical technology is a field with very dynamic development. New devices and technologies reach the market every year. Current trends include stress reduction through advanced surgical methods, further minimization of invasiveness, and computer-assisted navigation to support surgeons. Manufacturers of medical products invest around 10 percent of their sales revenues in research and development. On average, 50 percent of the revenues are made with products that are younger than two years. The impressive power of innovation in this industry also shows in the constant increase in patent applications. maxon drives can be found in numerous medical applications – after all, medical technology is maxon's largest market.
Perfectly positioned: A laser shows the way
The Radiology department at the University Hospital of Basel has state-of-the-art equipment. In addition to the world's first 3D X-ray device, the hospital also relies on a new laser navigation system for CT scanning – guided minimally invasive surgery. "It offers a lot of advantages for image-guided operations," explains Dr. Christoph Zech, head of the Interventional Radiology department at the University Hospital of Basel.
Visualizing the invisible
Since 1974, CT scans have been used to create detailed cross-sectional X-ray images of the human body. Doctors use these high-resolution images in their decision making, e.g., on where to take a tumor sample. But how do they reach that target? Where exactly do they place the needle tip, and what is the correct angle? Until now, this used to be a difficult challenge – every millimeter counts. Here's where the fully automated laser navigation system made by the company amedo comes in. The device consists of a ceiling-mounted, arc-shaped rail on which a motorized laser positioning unit is mounted. That's all – a simple system that makes a big difference for doctors and patients alike. (…)
Read more in the latest issue of "driven".
---
Filed Under: maxon Driven
---