The Cortet by CEL E100 Gateway is a very compact, zigbee based wireless gateway that provides both local and IoT based control for a wide range of lighting devices, accessories, fixtures, controllers and switches for small or medium scale commercial facilities.
This means that lighting throughout the entire building can be controlled locally by a Cortet Certified control device talking directly to the gateway via zigbee, or by a mobile device connected via Wi-Fi to the same network as the E100 Gateway. In addition, the building's entire lighting system can be controlled remotely via a mobile device accessing the Gateway via the internet. The Cortet E100 Gateway can enable all of these management modes simultaneously.
With a range of up to 100 meters and typical latency of less than 200ms, this scalable IoT network can support 120 devices in 30 different rooms. By using range extenders and/or additional Gateways, this network can further scale throughout an entire facility.
The E100 Gateway and Cortet technology supports code compliant requirements for task scheduling, occupancy sensing and daylight harvesting. It is very flexible and can be used to schedule and automate lighting based on specific commercial lighting needs. The current software supports up to four different daily programmable schedules with up to two day groupings (e.g. Mon/Tue/Wed/Thu/Fri + Sat/Sun) per room. The E100 Gateway can also be used to adjust color and temperature on light sources that support these features.
The compact E100 gateway measures about 2 inch by 2 inch by 1 inch.
"Our E100 Gateways are custom designed and optimized to manage smart lighting systems," said Erik Davidson, Director of Marketing & Product Management at Cortet by CEL. "With our Cortet Certified program, we are working closely with the industry's leading lighting and lighting accessories manufacturers to develop a complete range of products that have been rigorously tested to work out of the box with other Certified devices."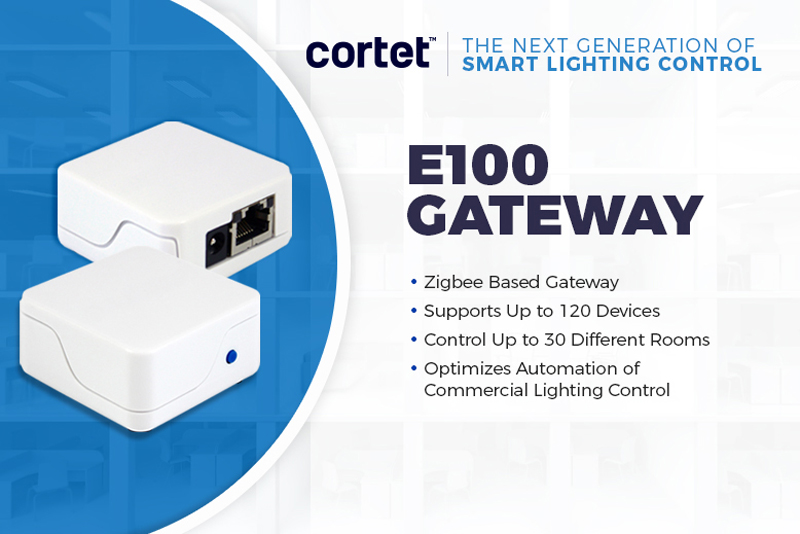 ---
Filed Under: M2M (machine to machine)
---