Anika Therapeutics, Inc., a global, integrated orthopedic medicines company specializing in therapeutics based on its proprietary hyaluronic acid (HA) technology, announced that its HA-based bone void filler received 510(k) clearance from the U.S. Food and Drug Administration (FDA) and is indicated for filling bone voids or defects of the skeletal system (i.e., extremities and pelvis), which are not intrinsic to the stability of the bone, created during surgery or resulting from traumatic injury.
The bone void filler, which is composed of a synthetic, biocompatible bone graft substitute material, is injected into a void, hardens at body temperature, and is then resorbed and replaced by the growth of new bone during the healing process.
"Anika's 510(k) clearance allows for the marketing of one of only a handful of bone graft substitutes that can be administered in a minimally invasive manner," Dr. John Tierney, D.O., an orthopedic surgeon affiliated with New England Baptist Hospital who has worked with Anika 's bone repair treatment, said. "It offers physicians an additional option for treating bone defects or injuries, without the need for expensive and high risk surgeries, while also reducing the operating room time spent on each case."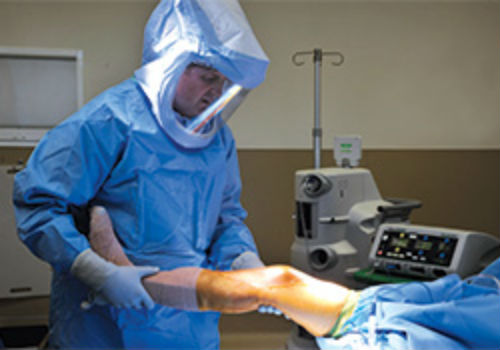 Over one million musculoskeletal procedures performed in the U.S. involve bone void filling, also known as bone grafting, and such procedures are most commonly required for spinal fusion, trauma, and revision total joint replacement procedures.
Anika estimates the current market size for treating tibial plateau fractures, stress fractures around joints, and decompression of necrosed bone to be around $300 million.
While the use of autologous bone or autograft has been the gold standard of treatment for bone grafting, the increased risk of procedural complications has prompted a shift towards alternate treatments1, such as synthetic, resorbable bone graft substitute materials.
________________________________________________________
1 Marc Bohner, Resorbable biomaterials as bone graft substitutes, In Materials Today, Volume 13, Issues 1–2, 2010, Pages 24-30, ISSN 1369-7021, https://doi.org/10.1016/S1369-7021(10)70014-6. (http://www.sciencedirect.com/science/article/pii/S1369702110700146)
(Source: Anika Therapeutics, Inc.)
---
Filed Under: Industry regulations
---