There's been a lot of talk about flying cars but what about flying motorcycles? Now, Jetpack Aviation (JPA) is taking pre-orders on a self-stabilizing, jet-turbine powered motorcycle that flies, according to New Atlas.
The flying vehicle, dubbed the Speeder, is capable of speeds up to 150 mph for 20 minutes maximum endurance at altitudes of 15,000 ft.
The Speeder utilizes the company's jet turbines, which have years of experience from creating the JB-series jetpacks. Additionally, the motorcycle uses four turbojet engines allowing a maximum thrust of 705 lbf., which can lift the 231 lb. vehicle and allows a maximum pilot weight of 240 lb.
The fly-by-wire control system self-stabilizes the Speeder mid-air, and the vehicle runs on kerosene, JetA, or diesel. The flying cycle also has hand controls, a 12-inch touchscreen, and a two-way aviation radio system for air-to-air and air-to-ground.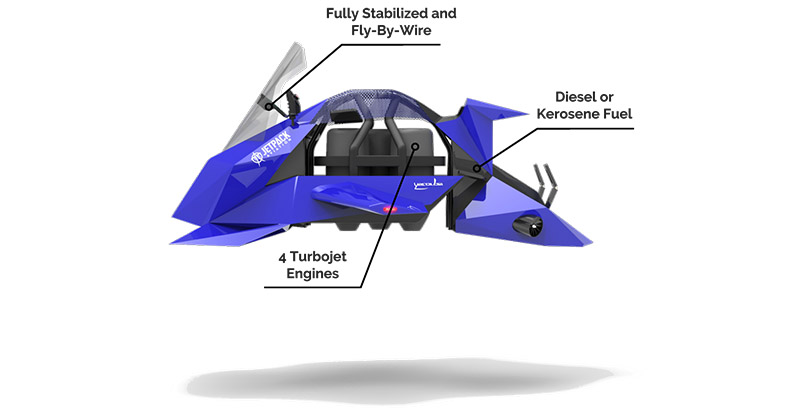 The company says it will create different versions of the Speeder under the ultralight and recreational categories, so individuals can essentially fly without a license. On the other hand, the experimental category version will require a full pilot's license. Currently, JPA is meeting with the FAA so this can be reduced to a Recreational Pilot Certificate or Sport Pilot's License.
As of now, the company plans to build 20 Speeders, and individuals can reserve the flying motorcycle for $10,000 but the entire vehicle costs $380,000. Once the company sells the 20, the rest of production will be committed to military and government use. The military version will have an additional jet turbine and extra lift. It will also have the ability to remote-fly it as a drone or cargo carrier.
---
Filed Under: Product design
---