Manufacturers today are trapped in a perennial race to get products assembled and out the door in less time and at lower cost but without jeopardizing quality. They also must adjust to constant change, especially the use of new materials in the manufacturing process and the need for assembly materials that are lightweight yet highly durable. Many manufacturers may be overlooking an unsung hero: high-strength bonding tapes.
New materials include the growing use of aluminum composite panels (ACM/ACP) in the construction industry and the use of smooth fiber-reinforced polymers (FRP) in the transportation industry. A closely related trend is "lightweighting." Among carmakers, lightweight materials significantly boost fuel efficiency and cut emissions. And across all industries, the lighter a product is, the less it costs to ship.
These new imperatives are shining a spotlight on the old ways of assembling materials. Classic bonding methods have worked for eons (the first screw was made of wood and used in olive oil presses in the first century AD) but today screws, welds, rivets, fasteners and even some adhesives are no longer the best way to attach metal, plastic and glass.
Productivity Surcharge
That is because these older approaches not only add weight, they come with a productivity surcharge. Using a mechanical fastener is a multi-step process that comes with the potential for costly errors at every stage. If you are attaching different types of metal, or if the screw is different from the metal, either the screws and rivets will rust out if not carefully selected or they will create a bridge, causing the panel you are attaching to rust. Another issue is that the holes in the metal required for a screw or rivet can create leak points. Drilling a pilot hole or using a self-tapping screw can scratch the surrounding surface area and using liquid adhesives can be messy. A final issue is aesthetics – a visible rivet or screw head can be a defect in and of itself.
Fortunately, recent advances in the materials industry, such as high-strength bonding tapes, offer faster and easier options for attaching materials without compromising durability.
High-strength bonding tapes:
Bond instantly and are faster to use than structural silicone. Pressure-sensitive acrylic foam bonds two substrates together on contact with no drying time. To apply structural silicone sealant to a commercial window unit, for example, would take approximately 24 hours to 21 days, including cure time. A structural glazing tape such as 3M™ VHB™ Structural Glazing Tape would take approximately 30 minutes to apply, with zero wait for curing. In other words, at a minimum, structural silicone can add a factor of up to 48X to the manufacturing process.
Are more resilient than general-purpose foam tapes. General-purpose foam tapes — the kind that can be purchased at your neighborhood home building supply store — are great for sealing, mounting and insulating, but not so good at withstanding rigorous applications and conditions such as extreme heat or cold, moisture, wind, and flexing. Acrylic closed cell foam remains flexible to accommodate material expansion and contraction caused by temperature extremes. Specialty bonding tape also allows for differing expansion and contraction rates of dissimilar substrates, such as plastic bonded to metal.
Absorb shock. The acrylic closed cell foam has properties that absorb shock and impact and comes in a variety of thicknesses.
Distribute stress over the entire length of the joined surfaces through a continuous bond. Viscoelasticity gives the tape cohesive strength, allowing it to resist dynamic stresses and absorb static stresses and spread stresses over a large area to reduce stress concentration. The ability to spread stress over a large area with tape means that manufacturers can use thinner, lighter, lower-cost materials than the thicker materials needed for screws or rivets.
Provide design flexibility. Much of this type of tape is used with precision die-cutting so that it can fit any shape, size or profile, maximizing design flexibility while helping to minimize assembly time. The tape can also provide full coverage on the back of any item if desired.
A Closer Look at Viscoelastic Bonding
Adhesive bonding joins parts through physical and chemical means, creating physical, chemical, and electrochemical interactions between the bulk substrate and adhesive. This modified structure, along with the adhesive's cohesive properties, can create permanent and powerful bonds that rival, and in many cases exceed, the bonds of mechanical fastening methods.
It is the viscoelasticity that is the key to how the tape forms a bond and holds on to surfaces. Viscoelastic properties allow the tape to flow on a micro scale, causing it to wet out the micro texture of a surface. Even flat surfaces have texture that viscoelastic materials can flow into. Once that physical contact is made with the micro texture, chemical interaction controls the level of anchorage to the substrate. Once VHB Tape makes contact through the viscous flow, it will maintain a durable bond through the elastic strength of the tape.
There are several elements to creating a strong and lasting bond. Cleaning the surfaces is important; dirt or oil will prevent the physical contact of tape to substrate and without chemical bonding, there is no real adhesion. Secondly, physically pressing the tape into the micro-texture of the surface will allow it to wet out and make the needed contact. Viscoelastic properties are a function of temperatures; tapes form bonds faster at higher temperatures. Approximately 50 to 60 F is the minimum temperature needed to obtain a fast bond for most VHB tapes. Immediately after pressure is applied, VHB Tape can hold on through a wide range of temperatures, typically ranging up to 200 degrees F. There are high-temperature 3M tapes that can support higher temperatures, such as when working with substrates with powder coating. If the tape is applied prior to the paint coat, then the tape must be able to withstand temperatures as high as 450 degrees F in the oven.
Abrasion is another way to improve adhesion. A fine texture of 180 grit equivalent or finer can increase contact area of tape and improve adhesion. A coarse texture, on the other hand, such as that found on most kinds of molded textures, looks like mountains and valleys to the viscoelastic tape, which will flow only partly down the peaks of those mountains. Primers and promoters are another way to improving adhesion by creating a new surface for the tape to bond to. A primer sticks to the hard-to-bond plastic and then the tape sticks to the primer.
In addition to achieving good adhesion by following the steps outlined above, it is important to make sure you have used enough tape to provide adequate strength. For long-term static holding, you need 4 square inches of tape per pound of supported weight, taking into account the safety factor. When applied according to this guideline, VHB Tapes can withstand decades in full weather exposure, temperature swings and occasional dynamic stresses. It's worth noting that if you're expecting significant dynamic stresses to contact the adhesive manufacturer because this type of bond can be much more complicated.
High Surface Energy versus Low Surface Energy
It's important to keep in mind that tape works differently with varying types of surface energy. High-surface energy (HSE) substrates are more chemically attractive to the tape than low surface energy (LSE) substrates and draw the adhesive closer for high bond strength. Materials with high surface energy include any kind of metal — aluminum, steel, stainless steel or galvanized steel. These have a surface energy rating, expressed in dynes per centimeter, which is orders of magnitude higher than that of plastic. Substrates with medium to low surface energy include plastics, paints and coatings. The following chart illustrates the range of surface energy and where commonly used types of materials fall on that spectrum.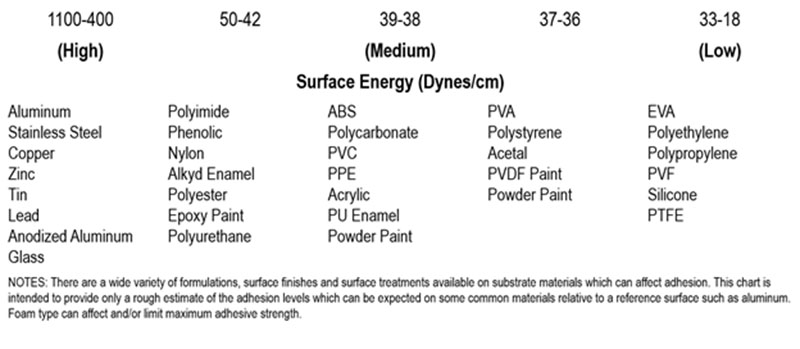 Plastics in the medium range are relatively easy to stick to; these include ABS, polycarbonate, acrylic, polyester resin and epoxy resin. The latter two are used frequently in composite materials. Plastics that are hard to stick to, such as polyethylene or polypropylene, require special techniques that are best selected in consultation with a 3M technician.
Paints and coatings, which typically have medium to low surface energy, are a common consideration in the assembly world. Some paints, such as polyester paint, have higher surface energy, while other types, such as powder coat paints, have flow agents that will decrease their surface energy. Thus, these range from having good adhesion to requiring a primer coat to increase contact.
There are four main types of applications where the use of a viscoelastic high-strength bonding tape works well, providing relevant benefits and conforming to the correct stress guidelines in most cases:
Panel to frame – E.g., trailer exterior sidewalls, signs such as Department of Transportation road signs and structural glazing. The benefits are speed and ease of attachment, instant holding, and the durability to dynamic stress such as wind and weather.
Stiffener to panel – E.g., trailer wall panels, traffic signs and large metal enclosures. In addition to speed and ease of use, this approach avoids "read-through" (use of structural adhesive can show on the thin-gauge metal panel's side and use of spot welding often requires grinding down and polishing on the panel side.) The foam also reduces vibration and noise caused by flexing of the thin-gauge panel material, such as a commercial baseboard A/C unit.
Lenses or windows to housing – E.g., cell phone screens, windows in electrical enclosures and LCD displays. In these applications, benefits include speed, ease of use, impact absorption, sealing (if die-cut), and aesthetics (thin bond).
Decorative materials – E.g., applying a company's brand label to a household appliance. Benefits include speed, ease of use and long-term reliability. In some cases, the high-strength bonding tape also provides dynamic strength, depending on what the material is.
A look at real-world applications show the range of applications that high-strength bonding tape can support. 3M™ VHB™ Structural Glazing Tape is being applied around the world, everywhere from the mirrored ceiling panels in the United terminal in Chicago O'Hare Airport and bonding stiffeners to stainless steel panels on the Walt Disney Concert Hall in Los Angeles, to bonding almost 650 panels of laminated glass to an aluminum framework at the Liberty Memorial in Kansas City, Missouri and keeping glass in place on constantly moving and vibrating subway station platform doors in South Korea.
Can tape replace rivets and screws? In many cases, yes. It is fast and easy to apply. All the assembler has to do is clean the substrate and then peel and stick the tape. The viscoelasticity of its acrylic foam gives it highly useful energy-absorbing and stress-relaxing properties and its acrylic chemistry provides outstanding durability performance, as the long-standing examples above illustrate.
The increased use of composites and demand for lightweighting will drive a growing need to find alternatives to welding and rivets that can permanently bond and seal many substrates without sacrificing strength, long-term durability, or appearance. Manufacturers looking for ways to cope will find that high-strength bonding tape can help them hold it together.
---
Filed Under: Materials • advanced
---