The fact that Sprint has a Time Division Duplex (TDD) network could give it a first mover advantage with LTE-Advanced technologies like massive MIMO, executives said Monday.
In a demonstration of Nokia's AirScale 64×64 MIMO system at Mobile World Congress, Sprint and Nokia officials explained how Sprint's use of TDD rather than Frequency Division Duplex (FDD) means it can move ahead more quickly with massive MIMO deployments since it doesn't have to wait for handset technology to catch up.
According to a Nokia representative, consumer devices from 3GPP Release 9 can be used with massive MIMO on a TDD network. The same, however, is not true on FDD networks, where carriers would have to keep their fingers crossed that specifications for 64 antenna ports will be included in Release 15. That release is expected in October 2018, meaning FDD operators would need to wait until early 2019 to get massive MIMO-compatible handsets up and running on their networks.
Sprint, however, is moving forward with massive MIMO trials this year with Nokia.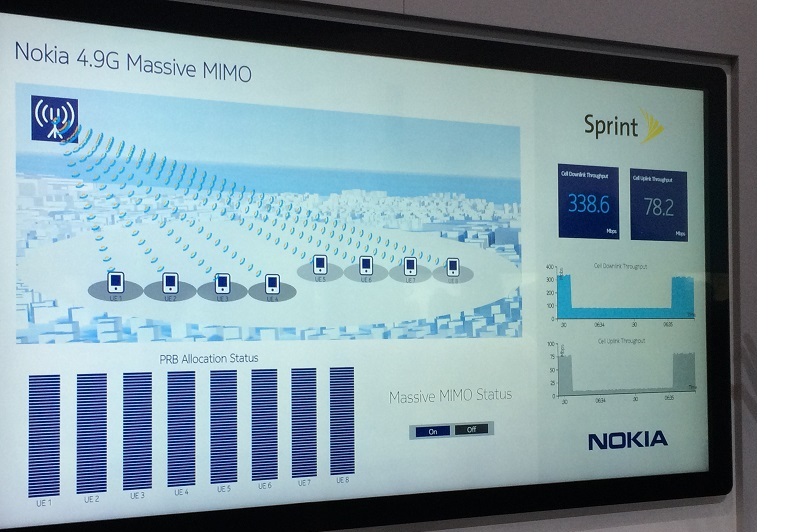 CTO John Saw previously told Wireless Week gigabit field trials of the massive MIMO technology with Nokia are forthcoming in the spring or summer. Saw on Monday added that shipping for commercial deployment will follow soon after, though a timeline has not yet been agreed upon.
Sprint COO Guenther Ottendorfer noted Sprint's deployment of the massive MIMO systems won't be a "blanket bombing approach," but rather a series of "surgical" moves to add capacity where it's needed. The goal there, Ottendorfer said, is to give consumers the speed they need for regular use, which he reported averages around 1.5 Mbps.
The full site capacity of the 128-element massive MIMO array from Nokia, though, will come in at around 10 Gbps, with four sectors at nearly 3 Gbps each.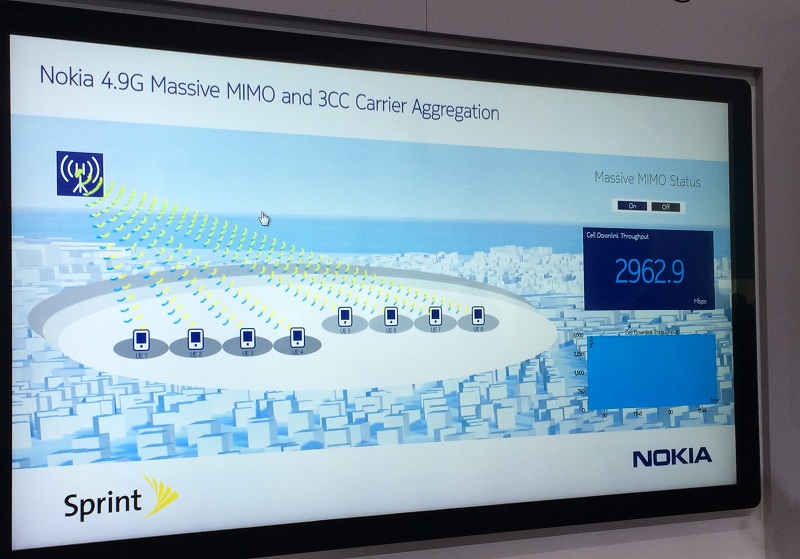 Saw and Ottendorfer noted the massive MIMO concept has been around for a while, but pointed out that Nokia's AirScale system finally brings to the table the computing power necessary to make it a reality. That is, Saw said, the system brings activity and intelligence (i.e. beamforming) to a formerly passive setup on the tower.
Sprint and Nokia indicated the shift will introduce more spectral efficiency into the network in addition to throughput, allowing more data consumption from users in a dense area.
Saw and Ottendorfer characterized the move to massive MIMO as one step on the journey to 5G, which they reported will also include a shift to four and five-carrier aggregation and virtualization. Though the carrier hasn't talked much about the latter (unlike rivals like AT&T), Saw and Ottendorfer said virtualization is something that is happening in parallel with the massive MIMO moves and indicated the carrier will have more to say on that front later this year.
---
Filed Under: Infrastructure
---