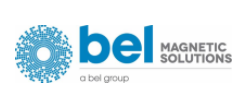 Bel Magnetic Solutions, a Bel group company and manufacturer of MagJack® Integrated Connector Modules (ICM) for Networking and Telecommunications applications, announces an entire suite of low profile, mid-plane mounted, single port ICM's that can support 10/100Base-T through 10GBase-T Ethernet applications.
With system requirements migrating to smaller and faster speeds, Bel Magnetics MagJack® low profile ICM's combine the small form factor with up to 10G speed capability. The combination of profile and speed permits customers to put Ethernet ports in locations, not possible in previous versions. Targeted applications include low profile devices, next generation servers and storage equipment, in addition to blade servers or network interface cards, laptop computers and mezzanine cards.
The MagJack® mid-plane mounted ICM's meet all IEEE 802.3 10/100Base-T thru 10GBase-T electrical requirements including Return Loss, Insertion Loss, Common Mode parameters and 100% Hi-pot tested. High speed capable, up to 10G, they are RoHS 6/6 compliant, UL recognized. Bel Magnetics MagJack® low profile, mid-plane ICM come in many different LED color combinations and options, with 50 micro-inches of gold plated contacts as required by TIA 1096/FCC 47, Part 68.
Common part numbers:
L834-1G1T-91 = tab down, 10/100BaseT
L834-1G1T-S7 = tab down, 1GBaseT
L8BE-1G1T-91A = tab up, 10/100BaseT
L8BE-1G1T-BFH = tab up, 1GBaseT
G15-111T-038E = tab down, 10GBaseT, Intel
G15-111T-076C = tab down, 10GBaseT, Broadcom
1840437-1 = tab down, 1GBaseT
For more information, contact Bel Magnetics at 858.676.9650 or visit belfuse.com/magnetic-solutions. You can also send an email to our tech…@belf.com for further assistance.
Bel
---
Filed Under: Connectors (electrical) • crimp technologies
---