Republican Congresswoman Marsha Blackburn of Tennessee on Thursday introduced a new broadband privacy bill just after voting to repeal the Federal Communication Commission's own regulations for internet service providers in March.
Unlike the FCC's privacy rules, Blackburn's bill – known as H.R. 2520, or the BROWSER Act – would require both ISPs and edge providers to provide clear notice of their privacy policies and require opt-in consent to use or share "sensitive" user information.
"The FCC's privacy rulemaking had two distinct problems," Blackburn said in a statement. "First, it created confusion by establishing two privacy regulators. The FCC unilaterally swiped jurisdiction from the FTC in a blatant power grab. Second, the FCC focused on only one part of the internet eco-system and ignored edge provider services that collect as much, if not more data, than ISPs. The government should not pick winners and losers when it comes to the privacy of Americans. This bill creates a level and fair privacy playing field by bringing all entities that collect and sell the personal data of individuals under the same rules. We look forward to working with our Democratic colleagues on this important initiative."
According to a copy of the bill obtained by Wireless Week, opt-in consent would be required for data including precise geo-location, children's information, health and financial information, social security numbers, web browsing history, app usage history, and the content of communications. An opt-out approach would be used for user data deemed non-sensitive. Providers would not be permitted to deny or terminate service for users who elect to keep their information private under the measure.
The bill also specifies the Federal Trade Commission as the agency tasked with enforcing its provisions, and blocks the FCC from enforcing an alternative set of regulations through a little clause about the Communications Act of 1934 (see below). The measure would also preempt any state laws related to the privacy of user information, locking in a blanket approach across the nation.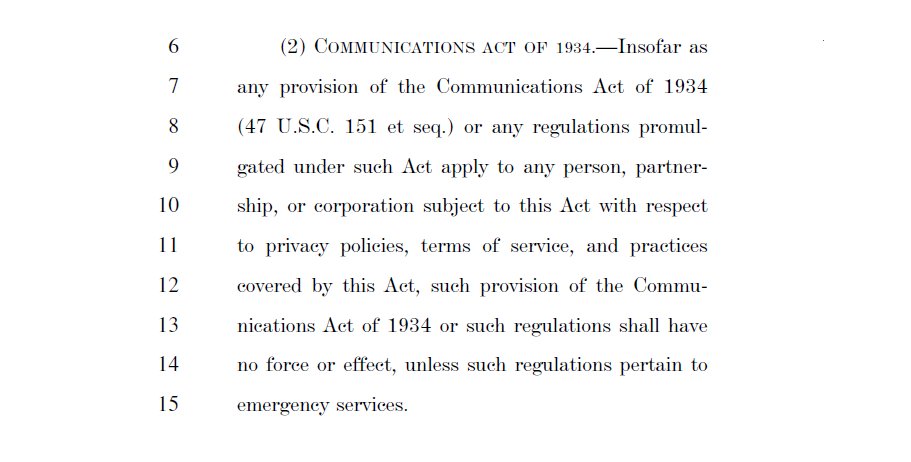 Blackburn's inclusion of edge providers (aka the Googles and Facebooks of the world) in the measure addresses one of the key gripes from ISPs about the now-scrapped FCC rules. Those, they complained, created an unlevel playing field by holding operators like Verizon, Comcast, and AT&T to a different standard than other companies in the internet ecosystem who remained subject to less stringent FTC regulations.
The bill has been referred to the House Committee on Energy and Commerce – where Blackburn is the Chair of the Subcommittee on Communications and Technology. But as pointed out by Axios, the measure's chances of passage are still uncertain given edge providers' pushback against the original FCC rules and critics who say the FTC doesn't have the know-how to regulate telecoms.
---
Filed Under: Industry regulations
---