Automation is a hot topic – will robots boost the economy or reduce the number of jobs available for people? McKinsey & Company have compiled data showing which jobs are most and least likely to be automated in the next decade.
At the top of the list is food service: machines could perform actions from cooking to collecting dirty dishes, because these activities are repeatable as well as because many people are already used to online and otherwise automated ordering. Packaging and retail also have high potential for automation.
Although automation is typically thought of as affecting manufacturing and other industries that involve physical labor, McKinsey & Company says that it also has the potential to be used in sectors that require a lot of knowledge work, such as healthcare and finance.
In the design and engineering industries in particular, welding, soldering, and other assembly line work is likely to be automated.
The jobs least likely to be automated are those that require a lot of human interaction and a lot of variables: teaching, education, and some writing careers. Healthcare is also relatively low on the scale of potential automation, but some activities, such as giving anesthesia or reading test results, could be performed by machines, freeing up time for human employees to perform more specialized tasks.
This information comes from a survey of over 2,000 activities in more than 800 occupations, using information from the U.S. Bureau of Labor Statistics. Industries that were most susceptible to automation include those that involve predictable, repetitive physical work, data processing, and data collection. On the other side of the spectrum are the activities least likely to be automated, which include specific expertise or managing people.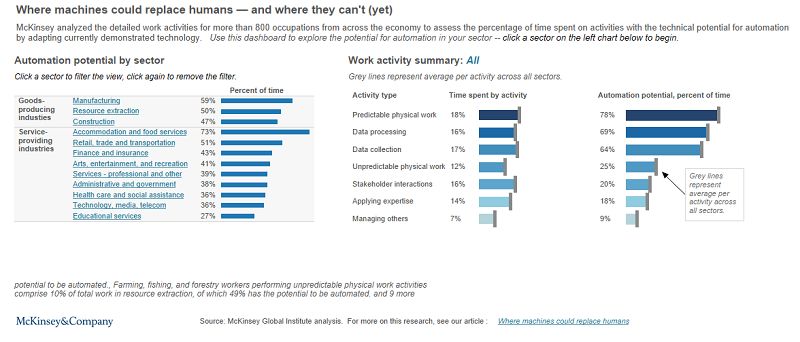 A detailed breakdown of why each job activity is or is not ripe for automation, as well as interactive charts, can be found here.
---
Filed Under: Industrial automation
---