Poor positioning of guide components on equipment used in the food industry could subject the guides to severe wash-downs, be inaccessible for maintenance, and become potential bacterial traps.

A cheese cutting machine uses pillow blocks for guiding cheese weighing up to 190 lbs.
To avoid these problems, companies can install pillow blocks from the DryLin linear product line. In fact, one cutting machine's in-feed system uses pillow blocks for guiding blocks of cheese weighing up to nearly 190 lbs. The arms of the unit are mounted on the pillow blocks and guided up from beneath a conveyor.

Food processing equipment uses liear guidance systems to move products.


DryLin linear components are water and chemical resistance and will not corrode or collect food particles.
The DryLin components are water and chemical resistant, will not corrode, and have no cavities where food could lodge. They require no lubrication or maintenance. The DryLin® linear bearings and components are made of solid, wear-resistant iglide polymers. The bearings and pillow blocks offer a cleaner, more cost-effective operation, have low coefficient of friction and are lightweight.
Discuss this on the Engineering Exchange: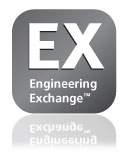 igus
www.igus.com
::Design World::

---
Filed Under: Linear motion • slides, Motion control • motor controls
---