As a result of customer interest, Sprinter Marking has recently made an effort to develop a code marking machine capable of very small "confirmation" marks with a model 44 Sprinter ink code-marking machine.
A rubber die with a ribbed rubber back has been made that transfers a tiny mark of approximately 1 mm (.040") square. Attached is a drawing of the Model 44 with the rubber die locked into the ribbed rubber base holder secured to the marking head. In the drawing the marking head has been shown on a close up basis as well the rubber die is further drawn in the exploded rendering.
With the 7.5 ml (.25 ounce) ink supply bottle the Model 44 Sprinter could run hundreds of thousands of marks. Customers could choose from a large stock of standard colors to contrast with the surface to be marked.
These tiny marks can be useful by manufacturers who wish to place confirmation marks on components after evaluations but have limited space to make this mark. Examples of manufactures might be a printed circuit board producer or an electronics component supplier.
Sprinter Marking code marking machines are designed for industrial code marking applications with high speed (350 CPM) operation applying code marks of varying nature using quick drying inks. The machines can operate in any orientation. More details on the machines can be found at www.sprintermarking.com.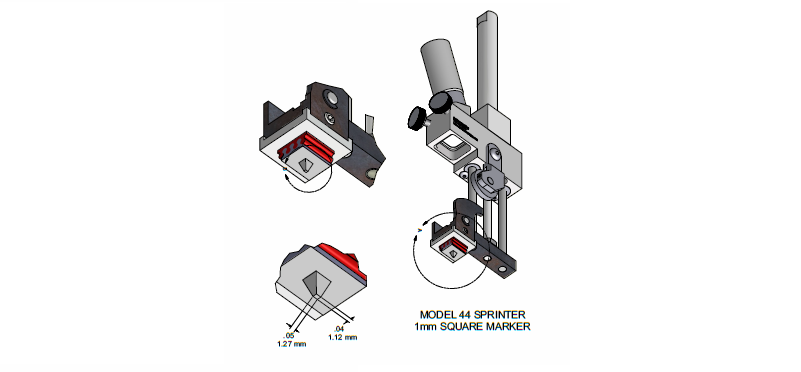 ---
Filed Under: Industrial automation
---