SABRE, an air-breathing rocket engine, as successfully passed the first phase of its high-temperature testing, making it one step closer to being in the air. Precooler technology will enable a variety of high-speed flight and advanced propulsion systems.
Created by Reaction Engines, the precooler heat exchanger passed with flying colors as the first phase consisted of high-temperature testing that replicated supersonic flight conditions. Future tests will set their sights higher with even hotter temperatures.
The ground tests researchers witnessed Reaction Engines' precooler quench the 788 F intake airflow in less than 1/20th of a second. This intake temperature is intended to replicate thermal conditions relating to Mach 3.3 flight, or over three times the sound of speed. For more perspective, Mach 3.3 matches the speed of the SR-71 Blackbird aircraft, which is the world's fastest jet-engine powered aircraft to date.
In other recent tests, the precooler also achieved 1.5 MW of heat transfer. This is equivalent to the energy demand of 1,000 homes. The precooler was able to cool incoming air from a temperature in which hot steel starts to glow.
Although just the first phase, the precooler has extensive tests still awaiting, and researchers will eventually see the precooler test article (HTX) exposed to high-temperature airflow conditions in excess of the 1,800 F expected during Mach 5 hypersonic flight.
In order to replicate the conditions the precooler will experience at hypersonic speeds, the test facility will use a General Electric J79 turbojet engine originally used in a McDonnel Douglas F-4 Phantom aircraft.
The testing took place at Reaction Engines' TF2 test facility located at the Colorado Air and Space Port, U.S.
Mark Thomas, Chief Executive, Reaction Engines, says, "This is a hugely significant milestone which has seen Reaction Engines' proprietary precooler technology achieve unparalleled heat transfer performance. The HTX test article met all test objectives and the successful initial tests highlight how our precooler delivers world-leading heat transfer capabilities at low weight and compact size. This provides an important validation of our heat exchanger and thermal management technology portfolio which has application across emerging areas such as very high-speed flight, hybrid electric aviation and integrated vehicle thermal management."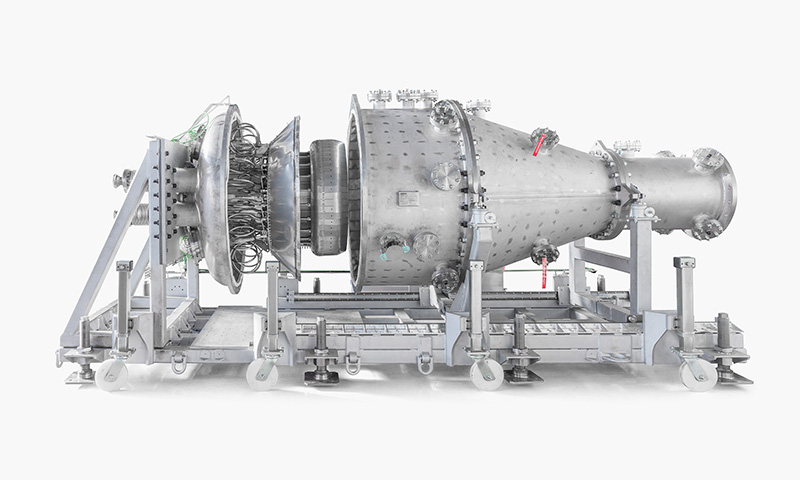 ---
Filed Under: Test + measurement • test equipment
---