Testing in a world of weapons, tanks, and tactical gear takes on a new level of intensity when "getting it right" has potentially life or death consequences.
The goal of taking physical measurements is to predict how a test article, in this case a proxy for the warfighter, will respond to real-world events. It begins with meticulous laboratory and simulation testing, but ultimately requires real-world field testing to validate those findings.
The analysis of the data from these efforts will lead to new innovations to improve warfighter safety in a multitude of ways.
The First Blast Test Dummy
The human factor always needs to be at the forefront, and one new high-tech development is the world's first "warfighter" blast test dummy. A blast test dummy is a full-scale anthropomorphic test device (ATD) that simulates the dimensions, weight, proportions, and articulation of the human body that has been instrumented to record data about its dynamic behavior during testing.
The current test dummies in use have been adopted from the automotive safety industry; however, they are limited in their usefulness as they had been designed to measure frontal or side impacts, not the vertical forces coming from under the vehicle and occupant in a blast event.
The U.S. Army has chosen Diversified Technical Systems (DTS), a privately-held, California-based manufacturer of miniature data recorders, as the prime contractor for both the dummy and instrumentation aspects of this important project. The result is WIAMan – the Warrior Injury Assessment Manikin. Specifically, the WIAMan in its current form is designed to assess the potential for skeletal injury from underbody blasts, particularly with regards to the legs, spine, and pelvis.
This multi-phased project for the dummy began in 2011 and is anticipated to extend through 2020, when production for the U.S. Army is anticipated to be initiated. The Department of Defense will be using WIAMan to conduct live fire explosive testing and evaluation on ground vehicle designs and associated equipment.
The biofidelic data collected from the WIAMan ATD will assist in improving vehicle designs, seats, restraints, padding, body armor, and tactical gear and support the development of new concepts like interior airbags – anything that can be used to minimize injury modes for the warfighter. This state-of-the-art blast dummy is a major step forward, and will have been the culmination of a significant effort and partnership between the U.S. Army and industry.
Overcoming Space Constraints
A significant challenge to military vehicle testing is understanding how to fit all of the test instrumentation into the vehicle. From the outside, a vehicle such as the Mine-Resistant Ambush Protected (MRAP) is a massive beast. But inside it's packed tightly with tactical gear and equipment, leaving little space for the warfighters, who end up in very close quarters side-by-side and knee-to-knee.
Traditional dummies require extensive external cabling, sensors, data recorders, and power supplies. The reason being is that the average dummy is instrumented with 64 to 100 channels of data collection instrumentation, but WIAMan can have upwards of 200 channels. The general trend toward higher channel count tests allows engineers to get an even more robust picture of what's happening.
It's a combination of several factors that drives this trend. First, more sensors are added to areas of interest. Second, different types of sensors are added. Typically, it's load cells or accelerometers, but angular rate sensors may be included to capture rotational velocity, like that seen in whiplash.
Each sensor that's embedded inside the dummy represents a data channel. The sensor cables are routed outside the dummy to an external data recorder. This large bundle of cables, or umbilical, not only adds significant weight (50 to 60 pounds), but it can also alter test dynamics and the precise pre-determined position of the dummy.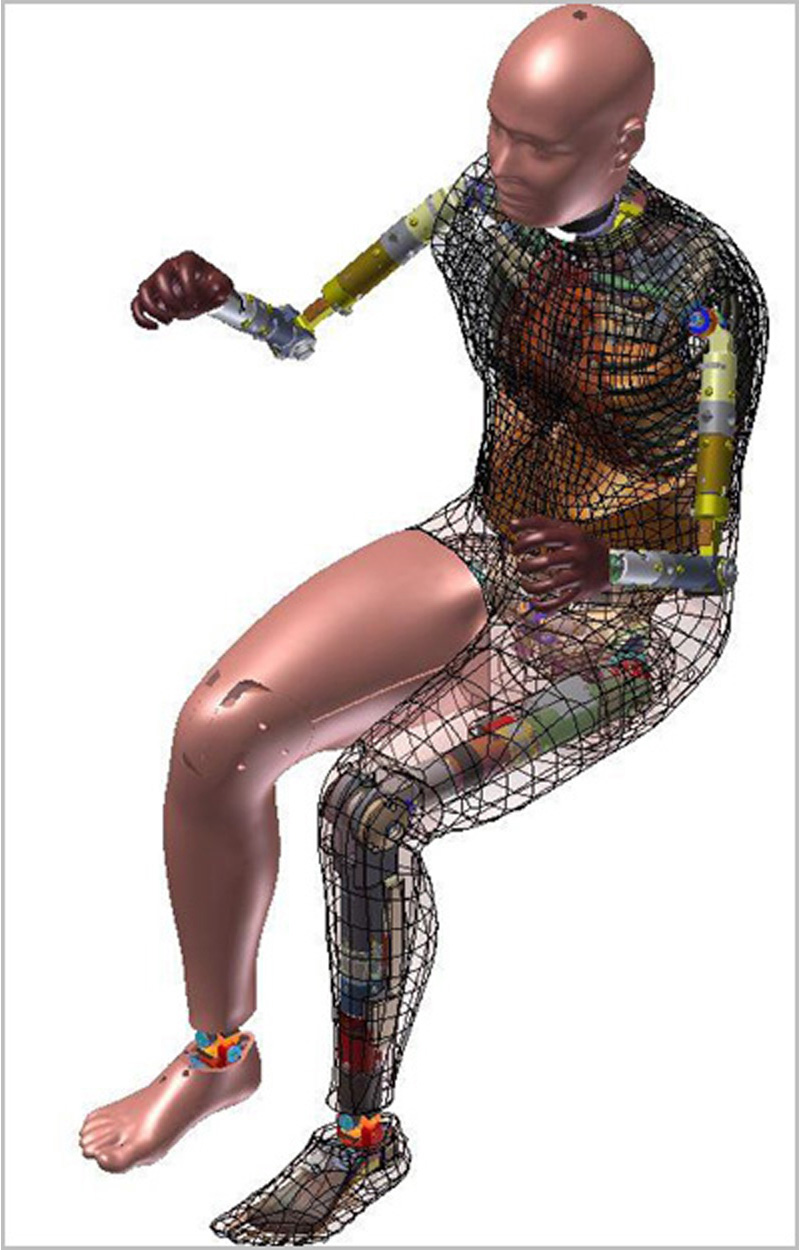 It's All Inside
In 1997, an official ISO Task Group was established to create the first international, regulation side impact dummy. DTS was awarded the data acquisition system (DAS) contract for that project. The dummy, called WorldSID, became the centerpiece of a new standard which for the first time included putting data recorders within the dummy itself (in-dummy DAS). DTS co-founder and president, Steve Pruitt, remembers those days clearly. "DTS pushed the importance of making WorldSID with in-dummy DAS from the beginning," he recalls. "It just didn't make sense to develop a new dummy that wasn't forward-thinking, only to have to retrofit it later for in-dummy DAS."
WIAMan will feature the next generation in-dummy DAS. Unlike the WorldSID system which has two to five small 32-channel DASs that fit in the spine and legs, WIAMan will have a multitude of tiny, six channel DAS blocks distributed throughout the entire body. Along with the data recorders, the sensors, cables, and even batteries will all be within the dummy.
One Chance to Get It Right
Another challenge has been ensuring there's viable test data once the dust settles. For years the U.S. Army has been testing troop armored personnel vehicles with DTS black boxes that are bolted into a protective cage on top of the vehicle during explosive testing. Rugged enclosures with shock-hardened components are being incorporated directly into the WIAMan data acquisition system design.
DTS's ability to do this has been proven in its projects with the U.S. Military, such as providing miniature recorders capable of surviving a 20,000 g impact, the highest g-rating available, which fits right into the test missile for hard-target testing. Other systems have been developed that can capture up to one million data points per second.
For destructive testing that may be over in literally milliseconds, it's not only critical the data is retrievable, but it must be accurate as well. Higher sampling rates mean more data points yielding better details and ultimately a better understanding of the blast event and its consequences.
Helmet Smart Sensors
In addition to quality, there is also quantity. Good testing relies on repeatability and validation. In an effort to better understand what's happening to individual warfighters in the field, DTS has developed a combat helmet smart-sensor to assist in tracking hard to identify or recognize mild traumatic brain injuries (mTBI).
Over 58,000 combat helmet smart-sensors were manufactured and delivered by DTS for use by the U.S. Army in Iraq and Afghanistan. This tiny data recorder, with its built-in sensors, fits seamlessly inside the top of a helmet. This device was a BAE Systems contract for the U.S. Army and is used to continuously monitor the warfighter for up to 12 months in order to capture any suspect events they may have experienced.
Thresholds are set so it knows the difference between a drop on the ground and an impact from combat, crashes, or an explosion. Analyzing the correlation between head motion and mTBI will be critical to understanding the long-term care needs for what has become one of the signature injuries of recent wars.
Safety can be a moving target. But with ongoing testing, research, and advances in technology – improvements in soldier safety are definitely a reality in progress. "It's always rewarding knowing that the work we do helps save lives," says Pruitt.
This article originally appeared in the May/June 2016 print issue of Product Design & Development.
---
Filed Under: Aerospace + defense
---