Want to get an in-person look at the inner workings of NASA's mission to Mars? Engineers and other scientists working on NASA's Space Launch System visited Reddit on Oct. 16 for an AMA in which they answered questions about NASA's Journey to Mars program. The Journey to Mars and Space Launch System aims to put humans on our neighboring planet in the mid- to late- 2030s, and it will take the SLS team, NASA Orion, Ground System Development & Operations, and NASA contract partners to get there.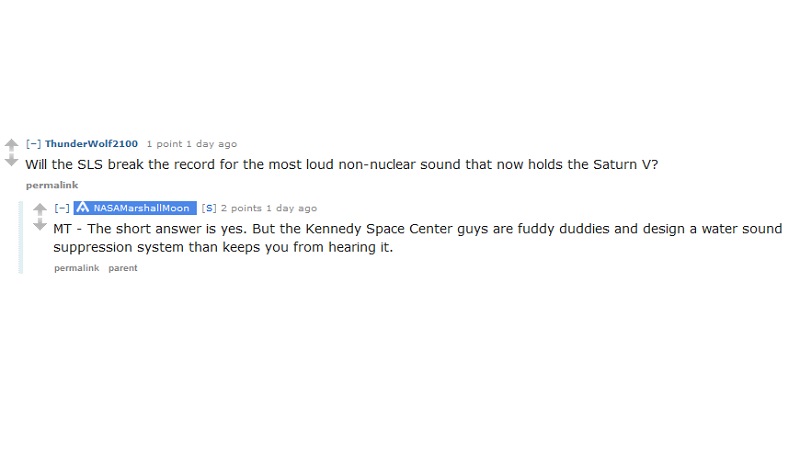 The Mars Transit Vehicle, in which astronauts would live during their trip, is still in the development phrase, said Bill Pratt, engineer at Lockheed Martin for deep space exploration. Some of the planning might be done in a cis-lunar habitat, a space station around the moon which could be used as a launching point for the mission to Mars.
After that, it's up to the descent vehicle, which would be a separate craft from the Mars transit vehicle.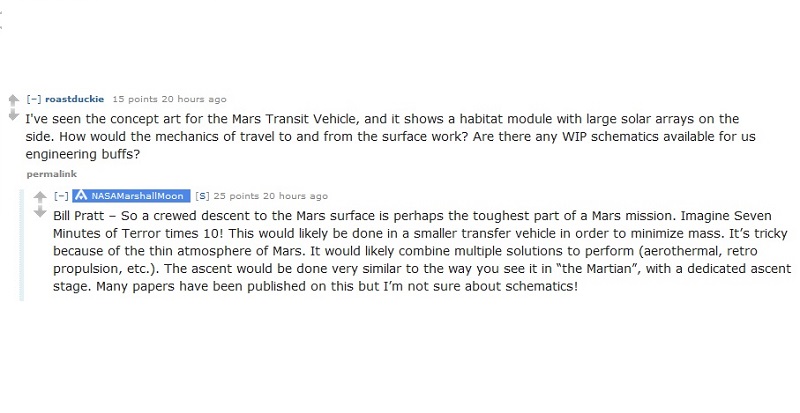 Once there, said Joe Cassady, executive director for space operations at Aerojet Rocketdyne, they'll work on finding out how Mars lost its atmosphere, magnetic field, and liquid surface water.
When it is complete, the SLS will launch with an Orion spacecraft. The capsules of the Orion will be partially reusable after it eventually returns to Earth, although the main structure, external components, and heat shield and tiles will not. NASA will be able to "strip the interior" and reuse many of the components. Despite the damage caused to the outside by the water in this theoretical landing, a water landing was deemed safer than a ground landing.
The Orion will be able to carry up to six crewmembers, but cannot make the nine-month journey to Mars alone. Its navigation systems and radiation protection must be developed to work further out in space than humans have ever gone before. That's why a cis-lunar infrastructure needs to be established, in order to reach the Red Planet using vehicles that can take longer journeys than are possible with Orion.
Final decisions haven't yet been made as to whether that might entail a moon base, a cis-lunar space station, both, or something else. Pratt suggests that a refueling station on Mars' moon Deimos would be "really helpful."
Of course, there was some discussion of the recent film The Martian. "Currently we're in the feasability [sic] study phase to both identify and mature the technologies that appeared in the film…" Andy Schorr, Space Launch System spacecraft/payload integration and evolution assistant manager at NASA, said.
Cassady also answered a question about the particle accelerator-powered vehicle used to travel to Mars in the film. NASA's human Mars mission will involve one solar powered electric propulsion vehicle for cargo and one crewed spacecraft using chemical propulsion – essentially, Cassady said, "We will have broken the [fictional craft] into two spacecraft to more efficiently accomplish the mission."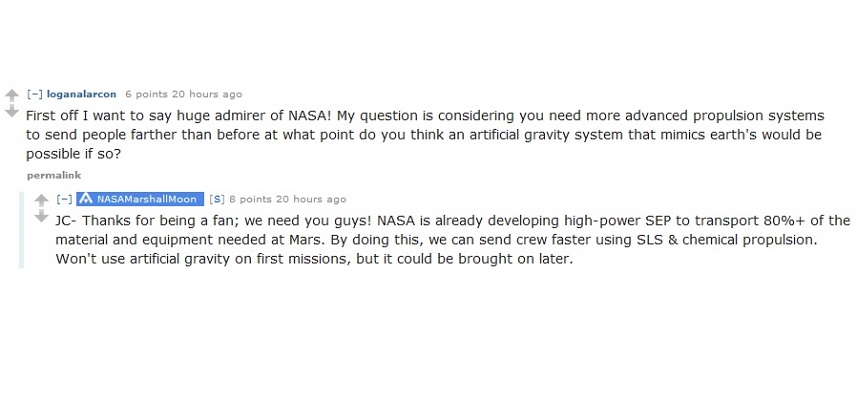 The group also answered questions about creating a habitable environment and artificial gravity on a spaceship designed to be inhabited for long periods, NASA culture and how to work there, and funding.
The complete question and answer session can be found on Reddit.
Astronaut Scott Kelly and cosmonaut Mikail Kornienko are spending a year in space in order to test the effects of long-term space travel on humans. As well as providing medical information that could help people on Earth, their mission will help scientists understand how the long journey to Mars would affect astronauts' bodies.
---
Filed Under: Aerospace + defense
---