Humvees in the hills. Tanks in the desert. Army trucks in a convoy. These vehicles are tasked with some of the most challenging and dangerous environments. They must be able to keep occupants safe against various attacks, including blasts from underneath the carriage.
Optimizing occupant safety in a Humvee or tank when encountering unexpected explosives—or bumps—in the road is one of the most important considerations, particularly when making vehicles bound for war zones. That means before the vehicles are sent to do battle, they have to be battle-tested. Creating the technology that improves vehicle safety is the job of engineers. They collect data from crashes and improve on systems—or create entirely new technology—to increase the chance that the occupants will walk away from a crash. But while they're crunching numbers and working at benches, someone—or something—is busy doing the dangerous work. Enter the crash test dummy.
More specifically, the military blast test dummies, which are also called anthropomorphic test devices (ATDs). These high-tech dummies vary from traditional automotive dummies because they're designed to do different things. An automotive dummy is designed to measure either frontal or side impacts, since that is where the impact would be coming from in a regular car accident. A military-dummy is designed to measure—in addition to side and frontal impacts—the impact coming from underneath the vehicle during a blast event. Where did military crash dummies come from?
Current soldiers can thank their friend Sierra Sam, the original military crash-test dummy, for starting the trend of using human-shaped objects for testing. Sierra Sam, created by Alderson Research Labs and Sierra Engineering in 1949, was designed for the purpose of testing aircraft ejection seats. Traditionally, engineers used animal carcasses or other distinctly non-human objects to test safety.
However, in the pursuit of finding an even better human analog, the U.S. Army is designing ATDs more suited to their purposes, instead of using dummies designed for more traditional automotive purposes.
The WIAMan Project
The Warrior Injury Assessment Manikin (WIAMan), under the U.S. Army Research Development and Engineering Command, is a project with the express purpose of creating a Warrior-representative test dummy that would contain biomedically-validated injury assessment tools. The data from these dummies will allow the Army to design safer vehicles and better outfit soldiers. This is important for four reasons, according to the WIAMan project. The new blast dummy will offer the ability to accurately measure
accelerative loads caused by Under Body Blast testing, increased knowledge of Warrior vulnerability in Under Body Blast testing, State of the art criteria, methodologies and metrics used to assess injuries from accelerative loading sustained during Under Body Blast testing, and [increased] potential for enhanced vehicle and soldier survivability.
Given that the Army is looking for vehicles to offer different types and increased amounts of safety than regular cars, WIAMan is taking data from injuries in Iraq and Afghanistan to create the new instrumented test dummy.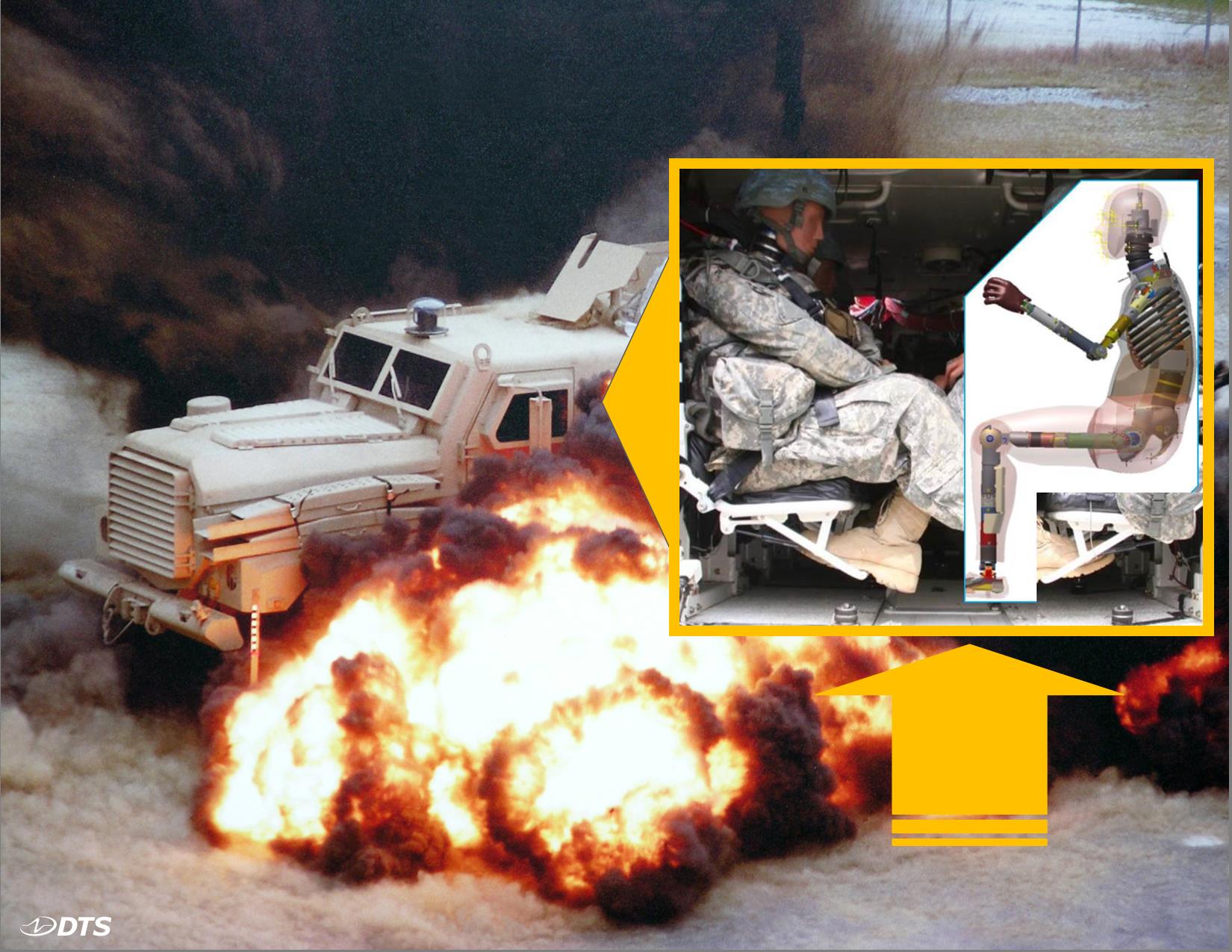 Testing for a Blast
Diversified Technical Systems (DTS), the prime contractor on the WIAMan project is engineering a complete new test solution including the dummy and the sensors and data recorders that will be inside the dummy. These devices allow researchers to collect that data from the accelerometers and load cells and use it to improve the vehicle safety.
DTS has a history of working within the unique world of the military. The company also works on vehicle black boxes that capture blast events, as well as internally mounted helmet sensors that capture impact data to assess soldier's injuries. A key part of the dummy will be the sensors and data recorders, says Steve Pruitt, co-founder and President of DTS, which are "primarily accelerometers and load cells, greater than 100 channels per dummy"—similar to what is contained in an automotive dummy. All the data is sampled from each sensor simultaneously at high rates and stored locally in flash memory, Pruitt says. The data acquisition system that will be inside WIAMan is based on DTS's innovative SLICE NANO, but is even more compact But, as expected, designing for military environments is a difficult task. The harsh environment means shock, EMI, and cables that are cut are all frequent problems.
Even cable management is an issue, considering a typical dummy may have as many as 100 channels. To deal with that, DTS places their data recorders inside the dummy, since large cable bundles attached outside a dummy can impact positioning, free flight test dynamics, and even more logistical issues like the amount of time it takes to set up a test.
The Nerve-Wracking Test
There is no room for error even in the testing phase. "Each test only lasts milliseconds and can cost millions, so loss of data is not an option," says Pruitt. It can take weeks to prep the dummies, vehicles and make sure all the sensors, cameras, and data acquisition systems are ready to go. There is a lot that could go wrong during the tests. The vehicle—which has taken weeks to set up—is traveling down a track at high speeds and needs to stay on that track. Plus, in order for the test to be useful the lights, data recorders, and cameras all have to trigger at the correct time to collect what is likely a concussive impact lasting only a few milliseconds, according to DTS. The WIAMan is being designed to be used in live fire testing, but it can be used to evaluate ground vehicles, including seats, as well. It will also be used to test armor and tactical gear.
---
Filed Under: Aerospace + defense
---