KRYTAR, Inc. announces a new Directional Coupler specifically designed for space applications operating over the ultra-broadband frequency range of 1.0 to 40.0 GHz. KRYTAR's coupler is uniquely designed for systems applications where external leveling, precise monitoring, signal mixing or swept transmission and reflection measurements are required.
KRYTAR specializes in the design and manufacturing of ultra-broadband, high-performance microwave components and test equipment for both commercial and military space applications. These unique couplers undergo additional reliability and quality assurance inspections during all phases of assembly and electrical evaluation. KRYTAR's successful space-application heritage offers distinct qualities including: innovative products; quick-reaction capability; design responsiveness; flexibility; fast production turn-around; and close partnerships with customers.
KRYTAR's new directional coupler, Model 101040010SQ, adds to the Company's growing family of space-qualified directional couplers by offering superior performance over the frequency range from 1.0 to 40.0GHz. KRYTAR's technological advances provide excellent operating performance of this new stripline design unit. Model 101040010SQ offers superior performance ratings including Nominal Coupling (with respect to output) of 10 dB, ±1.0 dB, and Frequency Sensitivity of ±1.52 dB. The directional coupler exhibits Insertion Loss (including coupled power) of less than 1.3 dB (1-20 GHz) and 1.7 dB (20-40 GHz),
The directivity of greater than 14 dB (1-20 GHz) and 10 dB (20-40 GHz), Maximum VSWR (any port) is 1.5 (1- 20 GHz) and 1.7 (20-40 GHz), Input Power Rating is 20 W average and 3 kW peak. The directional coupler comes with industry-standard 2.4-mm Female Connectors. The compact package measures just 2.00 inches (L) x 0.40 inches (W) x 0.65 inches (H) and weighs only 1.3 ounces.
KRYTAR offers complete engineering services for custom designs that meet or exceed critical performance and/or packaging specifications. A data sheet with specifications and package outline drawing is available via KRYTAR's website.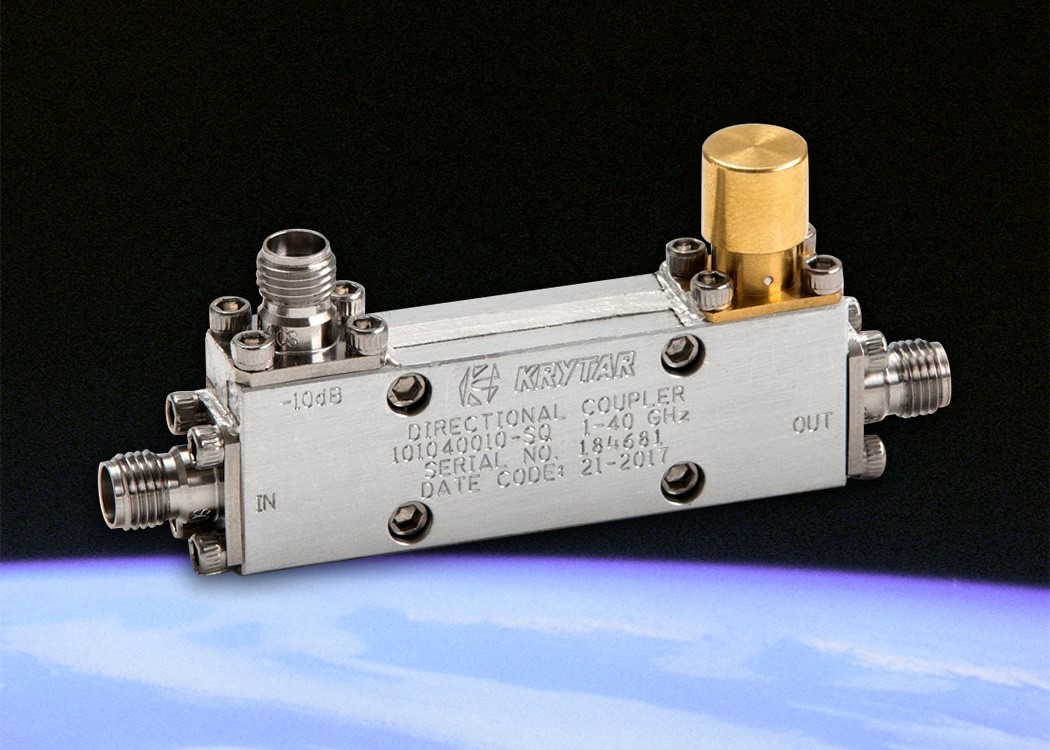 ---
Filed Under: Aerospace + defense
---