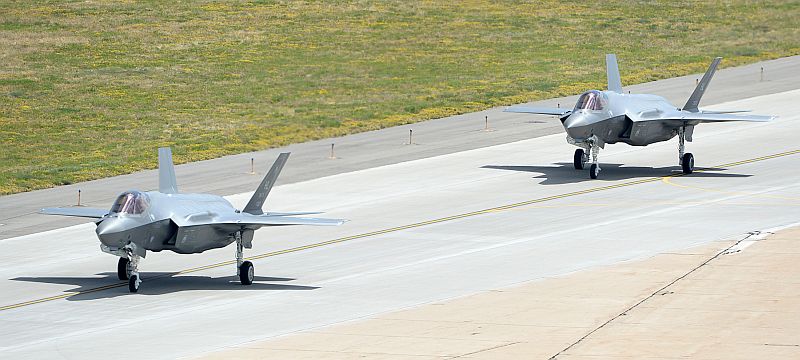 Data Link Solutions (DLS), a joint venture between BAE Systems and Rockwell Collins, has been awarded a contract from the Space and Naval Warfare Systems Command (SPAWAR) to demonstrate the Multifunction Advanced Data Link (MADL) on the Multifunctional Information Distribution System (MIDS) Joint Tactical Radio System (MIDS JTRS).
DLS will work with SPAWAR and the Massachusetts Institute of Technology Lincoln Laboratory to support the sharing of mission-critical data to further bridge the interoperability communications gap between fifth-generation stealth aircraft and fourth-generation fighter jets.
The enhanced communications capabilities will allow fourth generation jets to receive more detailed information to improve situational awareness across the battlespace. Planned for the third quarter of 2015, the demonstration will use a MADL data link on a MIDS JTRS transceiver communicating with a fifth-generation stealth fighter reference implementation.
"Identified as a goal of the U.S. Air Force Air Combat Command, the MADL demonstration serves as a battlespace risk reduction activity for the broader 5th to 4th generation gateway procurement," said DLS director Doug Schmidt. "This planned laboratory demonstration continues DLS' commitment to helping resolve the 5th to 4th generation communications gap, while improving situational awareness and mission success for our allied forces."
The MIDS JTRS is a networked communications system providing a single chassis, multiple-channel radio that significantly reduces the number of different and unique radios needed on the battlefield. The MIDS JTRS is a four-channel JTRS radio that includes Link 16 and Tactical Air Navigation (TACAN) functionality.
DLS was established in 1996 by two of the world leaders in military communications, Rockwell Collins and BAE Systems, to pursue next-generation Link 16 applications. DLS is a leading supplier of Link 16 terminals and software, as well as logistics and support services for air, land, and sea-based platforms. The company has a heritage of more than 20 years of Link 16 design and production experience, with more than 6,500 Link 16 systems delivered worldwide.
DLS has provided MIDS terminals for more than 40 different platforms in 38 countries. Product offerings include the Joint Tactical Information Distribution System Class 2 family, the Multi-functional Information Distribution System (MIDS) LVT and LVT-3 Fighter Data Link, the MIDS-LVT-2, the MIDS-On-Ship, the URC-138 Link 16 terminal, TacNet Tactical Radio and various country-unique data links. DLS is one of the only companies to provide MIDS-LVT variants including the Fighter Data Link, MIDS LVT-2/11, and MIDS-JTRS.
Source: http://www.defense-aerospace.com/articles-view/release/3/168955/new-data-link-may-enable-f_35-to-talk-to-other-aircraft.html
---
Filed Under: Aerospace + defense
---